Time hasn't had any effect on Hergé, Tintin or the Museum dedicated to them. Many things have happened since the debut of Tintin in 1929, including the creation of this magnificent museum, which opened to the public on May 22, 2009. Since then, this building designed by the great French architect Christian de Portzamparc, has watched over Hergé's work and allowed it to be seen by the general public.
© Moulinsart – Atelier Christian de Portzamparc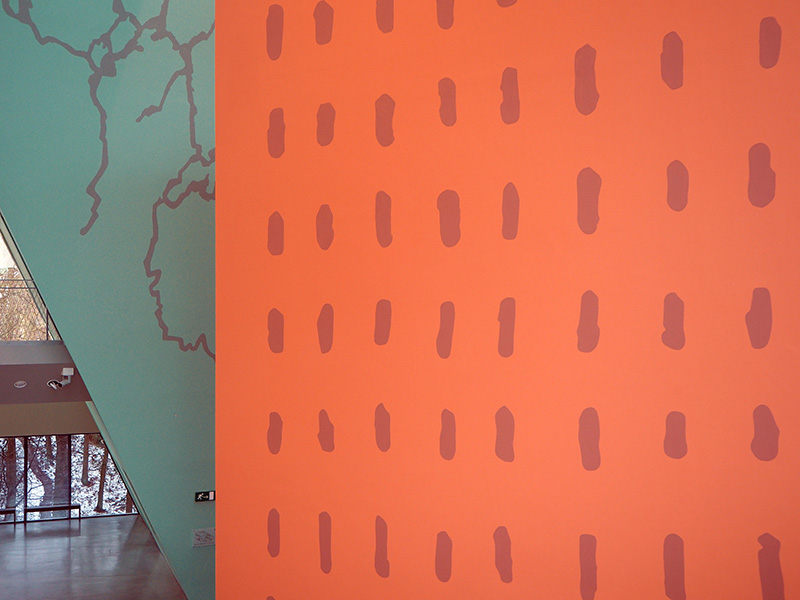 © Moulinsart – Atelier Christian de Portzamparc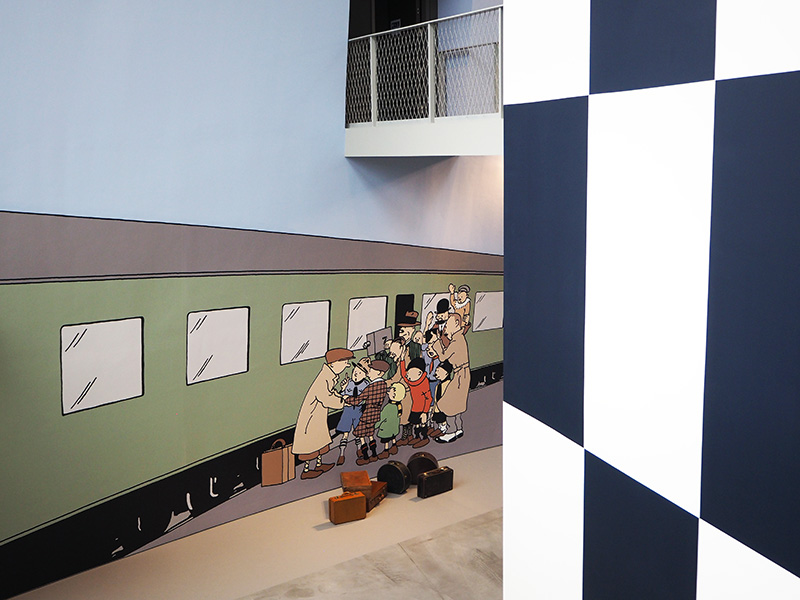 © Moulinsart – Atelier Christian de Portzamparc
Unique, we could even say, phenomenal!
The Hergé Museum is unique because it is devoted exclusively to a single comic strip creator. A rare occurrence for a museum in the world of the Ninth Art. There are some exceptions. In Japan, there is the Ishinomaki Mangattan Museum dedicated to the cartoonist Shōtarō Ishinomori, a Japanese manga artist, whose real name is Shōtarō Onodera. Similarly, the Charles M. Schulz Museum and Research Center is another exception. Charles Schulz is the creator of Peanuts and Snoopy.
A museum open to everyone.
Although the Hergé Museum is an art museum, it also seeks to reach as wide an audience as possible. For this reason the following initiatives will be retained:
• Free admission on the first Sunday of each month.
• Themed or adapted guided tours (blind or visually impaired, deaf or hard of hearing). Le Musée Hergé participe à la semaine de la personne handicapée Musée Hergé - journée mondiale du handicap - parcours de sensibilisation Journée Famille au Musée Hergé à l'occasion de l'anniversaire de Tintin Grand succès pour le Musée Hergé ce 3 avril !!! Dimanche gratuit - 2 avril, au Musée Hergé !
• A multilingual audio guide presenting the 8 rooms in an interactive way, featuring multimedia content including text, audio and video.
• Educational packs for schoolchildren of all ages.
A "smart" environment
This museum offers a unique social environment. It is conducive to mobility and promotes a common living space, "smart city", focused on the pedestrian city par excellence. It is located on the edge of the city of Louvain-la-Neuve, near the Parc de la Source. An ideal location, because it's proximity to the centre, train station and the various parking facilities. Louvain-la-Neuve is an urban laboratory, similar to Professor Calculus'.
Every year, the Hergé Museum attracts an average of 80,000 visitors from all over the world. Among them, influential figures from the political, cultural, social and scientific world and many people from all walks of life, not forgetting some crowned heads. Le roi Albert II visite le musée Hergé Le prince Albert II de Monaco visite le Musée Hergé
An open space
Several temporary exhibitions have taken place over the last decade, including the following:
• Tchang, Hergé parcours d'artistes (2009/2010) The making of The Blue Lotus Chang!
• Joost Swarte - 40 ans de dessins (2010) Joost Swarte at the Museum and in The New Yorker
• Tintin, Hergé et les trains (2010/2011) Tintin, Hergé and trains
• Tintin et Milou chez les Arumbayas (2011) Tintin and Snowy in the land of the Arumbaya
• Au Tibet avec Tintin (2012) Exposition: Au Tibet avec Tintin Into Tibet with Tintin
• Allo Bruxelles ? Ici Rawhajpoutalah ! (2013) India exhibition Herge Museum
• When Hergé met Nat Neujean (2014/2015) The Nat Neujean exhibition is drawing to a close When Hergé met Nat Neujean Clip sur l'exposition Nat Neujean au Musée Hergé
• Il y a 100 ans, hommage à Raymond Leblanc (2015) Inauguration of the Raymond Leblanc temporary exhibition at the Hergé Museum 5 ans du Musée Hergé
• Hugo Pratt, Rencontres et passages (2015/2016) Hergé and Pratt side by side Hugo Pratt and Corto Maltese – as recounted by Didier Platteau - Hergé Museum
• Tonnerre de Brest ! (2016) Happy Birthday Hergé Museum – 7 years old! Hergé Museum 7TH Birthday - EXPO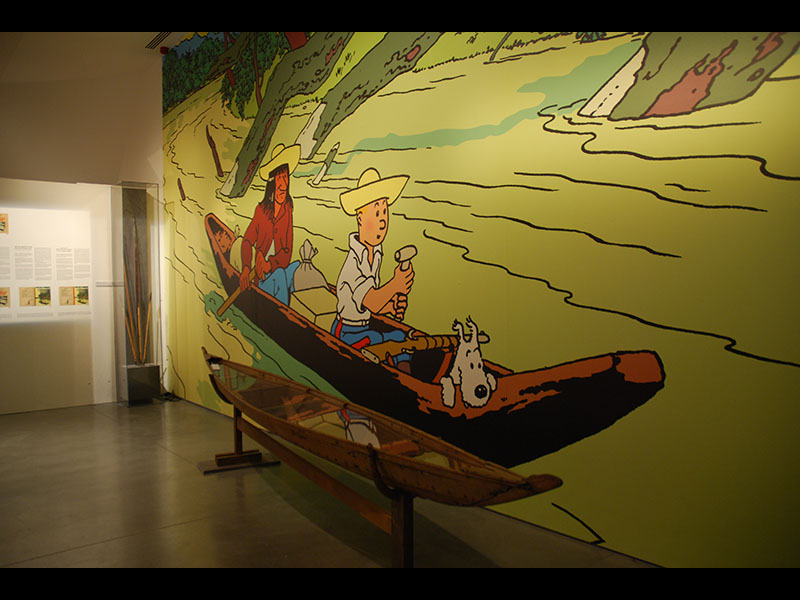 Au pays des Arumbaya © Hergé-Moulinsart 2019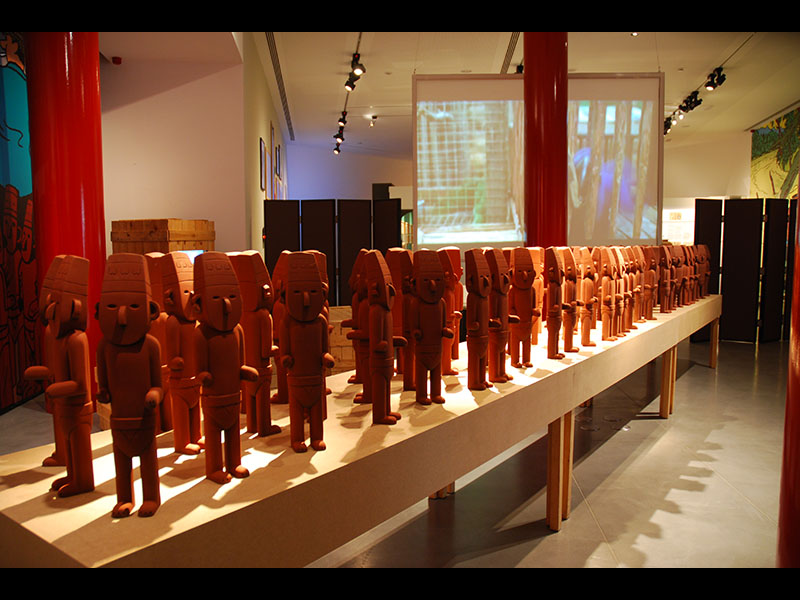 Au pays des Arumbaya © Hergé-Moulinsart 2019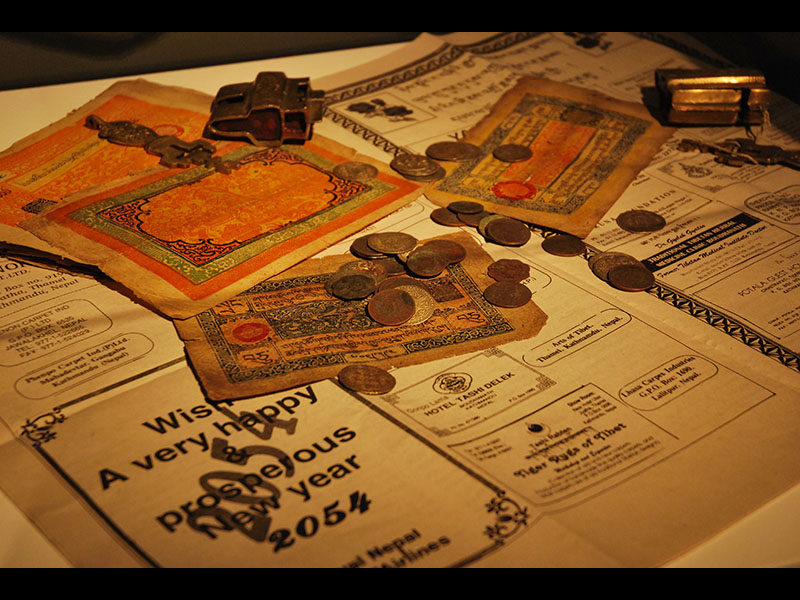 Tintin en Inde © Moulinsart 2019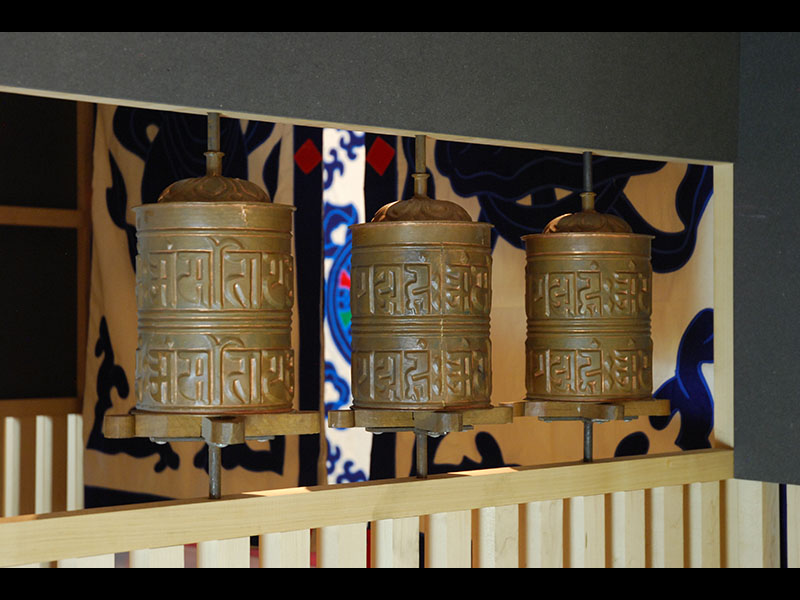 Au Tibet avec Tintin © Moulinsart 2019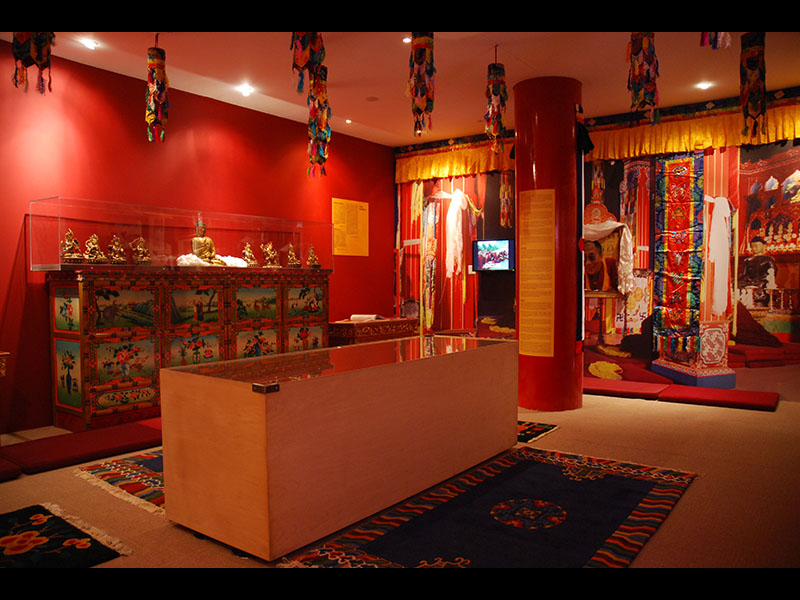 Au Tibet avec Tintin © Moulinsart 2019
Au Tibet avec Tintin © Moulinsart 2019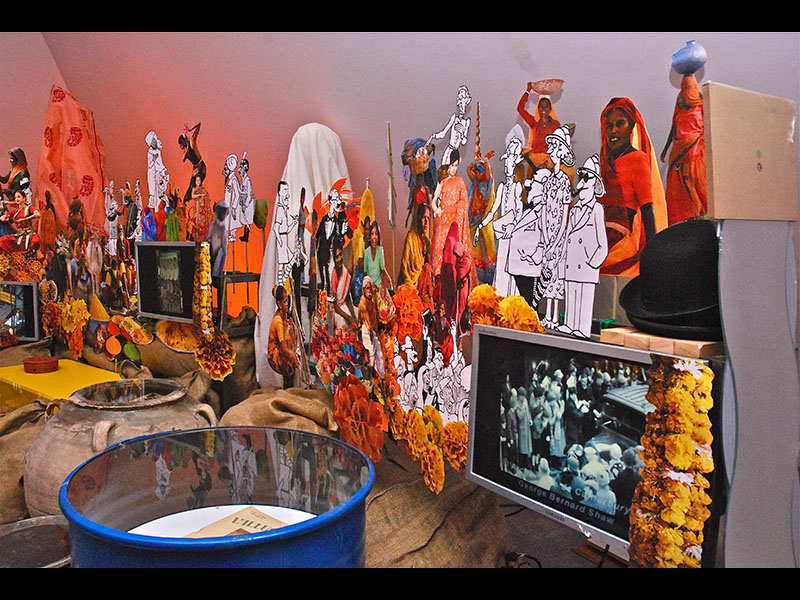 Tintin en Inde © Hergé-Moulinsart 2019
And what will be happening tomorrow?
To celebrate its tenth anniversary, the Hergé Museum has commissioned the sculptor Tom Frantzen to create a life size statue of Hergé. This Brussels born artist is particularly sensitive to "the zwanze", which is a humorous story characteristic in French-speaking Belgians, in Brussels. He considers that this very unique humour ​​brings out absurdity and surrealism. He defines his own style as Contemporary Flemish Fantasy. For decades, he has been creating works that mingle with the urban landscape and brighten up the daily life of the residents of Brussels. Following in the footsteps of his stunning sculptures of Pieter Bruegel and Jacques Brel, Tom Frantzen now offers us his vision of the creator of Tintin and Quick and Flupke whose humour brought him such joy in his childhood.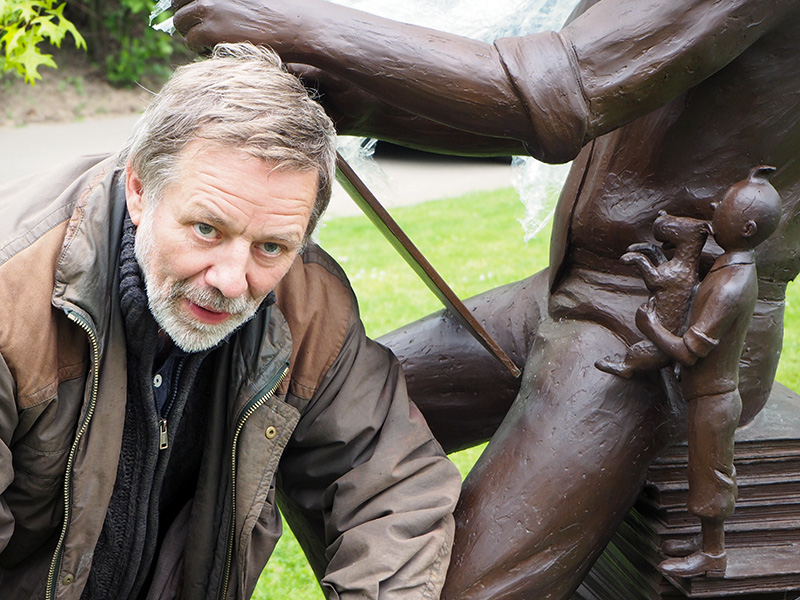 © Moulinsart 2019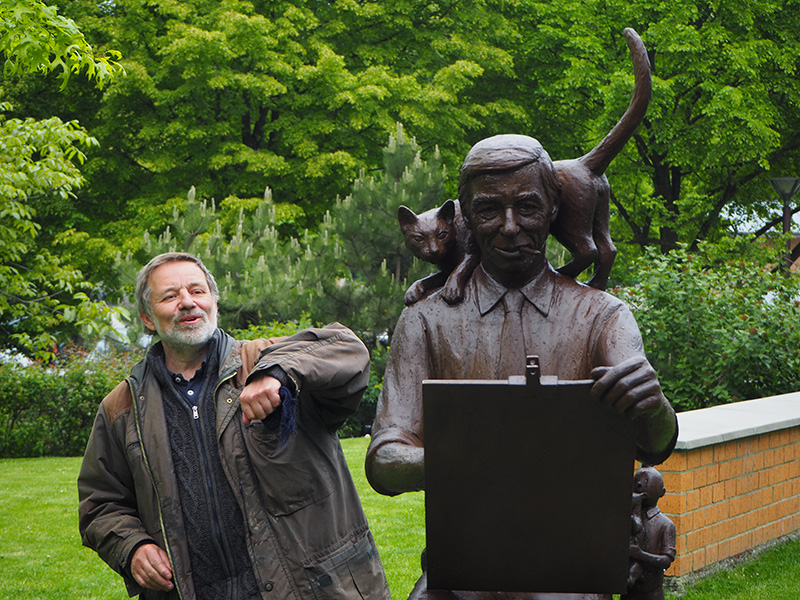 © Moulinsart 2019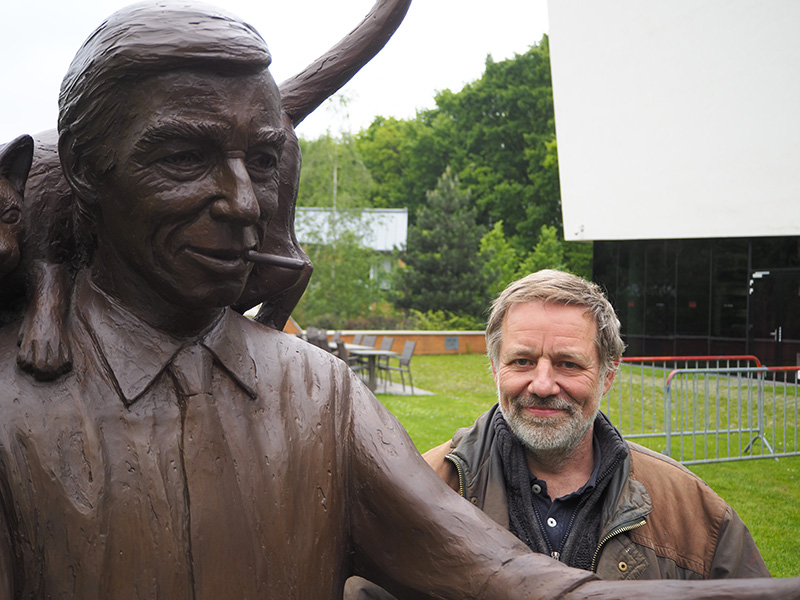 © Moulinsart 2019
The Hergé Museum is in a way an extension of the artist's work. It offers visitors the opportunity to learn, enjoy themselves and pass on to future generations the magic and beauty of a pencil stroke and the speech bubbles which accompany it. It makes them travel, dream a little... a lot, passionately. And most importantly, it makes them enjoy (re)reading the adventures of their favourite heroes.