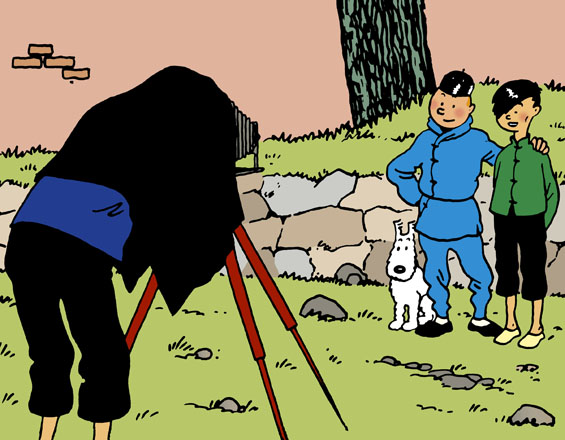 The Blue Lotus (1936) - Page 48]
On Tuesday 1 May 1934, at 5.00 pm, Chang Chong-chen met Hergé for the first time, at his house on Rue Knapen in Brussels. The following pages shed some light on the beginning of their wonderful adventure of friendship, ahead of the full story being told in an exhibition at the Hergé Museum, from 21 October 2009.
By Hergé's own admission, Tintin in the Land of the Soviets, Tintin in the Congo, and Tintin in America, were unsophisticated serials. The action was synchronised to a weekly schedule, the narrative was sketchy at best, and although the each new episode linked up with the last, generally there wasn't much of a link with reality. From 1932, things changed with Les Aventures de Tintin, Reporter en Orient, the adventure that would become Cigars of the Pharaoh. The qualitative development of the stories was clearly a consequence of the quiffed reporter's soaring popularity, as attested by the crowds who turned out at the Gard du Nord train station in Brussels on several occasions, to welcome their hero (a young man suitably dressed up for the occasion) back from his latest adventures. The passion and pleasure of simply telling stories transformed into a full-time job for the artist. From Tintin en Orient onwards, Hergé began devising proper plots, while retaining the freedom for comic digressions and surprise twists.
In the 8 March 1934 issue of Le Petit Vingtième, Tintin announced the sequel to Tintin en Orient, which had seen him travel to Egypt, Saudi Arabia and India: this time, Tintin was off to Shanghai! Father Gosset, the chaplain of an association of Chinese students in Belgium, wrote Hergé a letter warning him to steer clear of offensive stereotypical views of China and the Chinese. Hergé and the chaplain began communicating. It was through their correspondence that the name Chang Chong-chen first became known to the creator of Tintin. A rendezvous between the two young artists was set for 1 May. They struck up an instant friendship. Hergé and Chang had relationships in common with Dom Lou and Father Neut from the Benedictine Abbey of Saint Andre, near Bruges.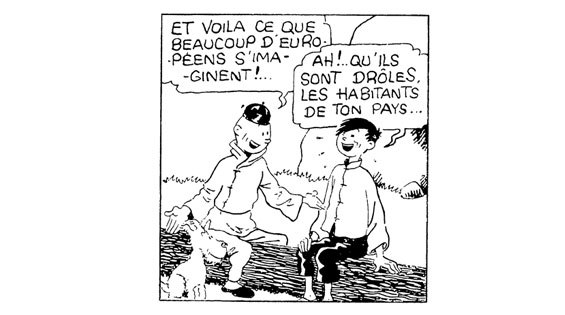 ]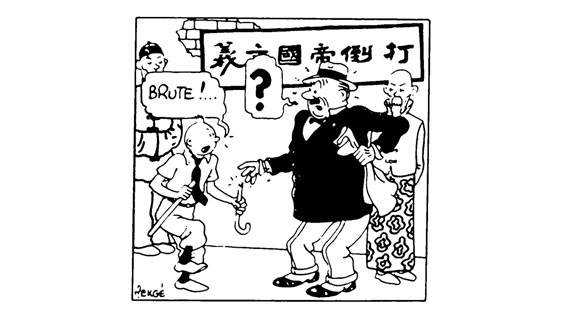 ]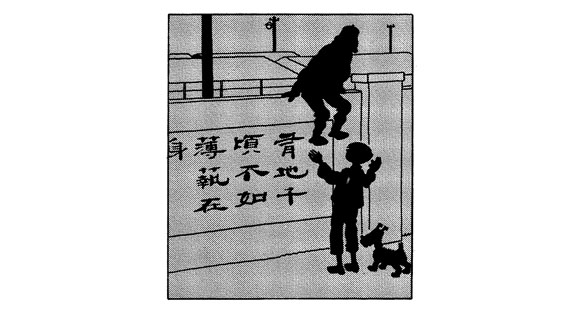 ]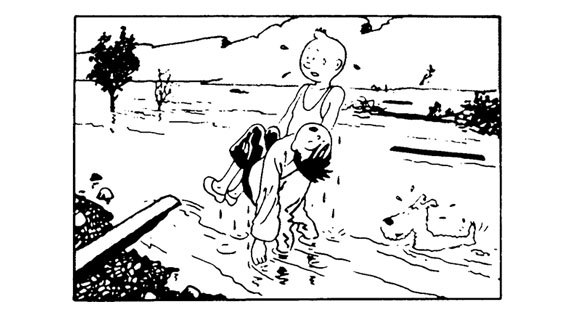 ]
In May 1934, Father Edward Neut, who knew both Chang and Hergé, wrote: "I've the feeling that Tintin's next journey could have even greater repercussions than any of his previous trips." He was to be proved right, but in a positive way! Starting in May 1934, Hergé and Chang together began creating Tintin Reporter en Extrême-Orient, the new adventure for Le Petit Vingtième, which began publication on 9 August 1934. Hergé and Chang's duet would continue from May 1934 to July 1935. It began with some calligraphy: an inscription at the heart of a cover illustration for Le Petit Vingtième (2 August 1934). Chang would never tire of speaking about his country, gently exposing the mistaken views and clichés so often entertained by Europeans about China.
Sundays became working meetings held at fixed times, helped along by cups of tea and pancakes. All the Chinese inscriptions in the story are therefore authentic, and Chang would take the opportunity to compose a few heartfelt slogans, for example: "Abolish unfair treaties!" and "Down with Imperialism!" The Chinese artistic tradition, as transmitted to Hergé through Chang, certainly had a profound effect on the author. What we now call the "clear line" technique was without doubt born during their enthusiastic encounters. Refined drawing and the balance between empty space and shape (which Chang called "the marriage between wind and bone") became a constant preoccupation for Hergé, and then developed into a natural style on the pages of Tintin.
Hergé learned to "feel" things, objects, and plant life - Chang would "narrate" a tree rather than draw it for him. These were lessons that brought Hergé into contact with eastern philosophy, especially Taoism. "Chang's influence is undeniable; [...] he literally guided the hand of his new friend, helping him to refine and loosen up his style, encouraging him to paint trees, rocks and bamboo, and advising him sometimes to set aside pencil and pen in favour of brush and ink." "Whether thick or thin, energetic or subtle, lines bring form, movement and also effects of light into being. The lesson was as much poetic as artistic." (quotes taken from Tchang !, by Jean-Michel Coblence and Tchang Yifei, Ed. Moulinsart)
Chang naturally became a supporting character in the Tintin saga. The young reporter met his new Chinese friend on the banks of the Yangtze River, after saving him from drowning. The boy's name was Chang. In the colour version of the story (1946), he would give his full name, Chang Chong-chen.In July 1935, Chang left Brussels to return to his country of origin. He set off from the Gare du Nord train station. He travelled Europe, visiting the most important artistic sites, towns and museums. On 11 October he set off from Venice on a one-month journey back to Shanghai. Six days later, on 17 October, Hergé would write the word "Fin" at the end of Tintin Reporter en Extrême-Orient. Other adventures were in store for the friends. Read about them in next week's instalment.