Snowy is an exceptionally white wire Fox terrier.
Name
In French, Snowy is called Milou.The name came about thanks to a girlfriend of Hergé, Marie-Louise Van Cutsem, who was called "Milou".
Surname
Snowy was called Morning Snow by the Tibetan monks (Tintin in Tibet, page 47, A2)
Faithful companion
"Snowy is always there alongside Tintin. They talk to each other. Even though he speaks, Snowy is above all just a normal dog. Even though he talks a great deal, he remains a simple dog for Tintin.
Tintin and Snowy are totally on the same wavelength even when they are in conversation". (The key characters in Numa Sadoul, Tintin et Moi, p.240).
Be strong Snowy!
Even if Snowy gives the impression that he likes to set-off on another adventure, he in fact prefers the peaceful life.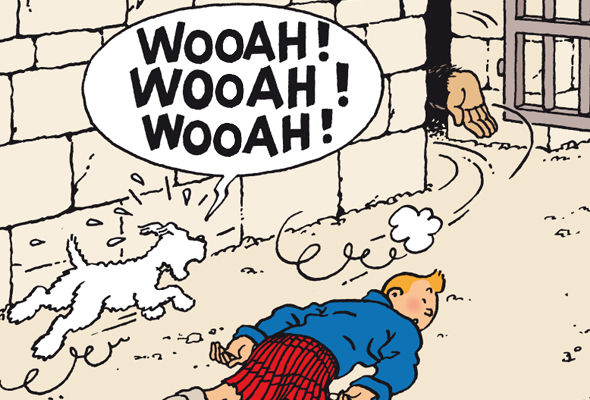 The Black Island, page 53
Being both generous and faithful forces him to follow Tintin, who is always on the move. Snowy's flair and courage will often save Tintin from imminent danger.
Temptation
Sometimes Snowy succumbs to temptation. Especially when food is concerned. He remains curious and let's not forget that dogs have their own instincts. However, when courage is required, you can rely on Snowy to help his master.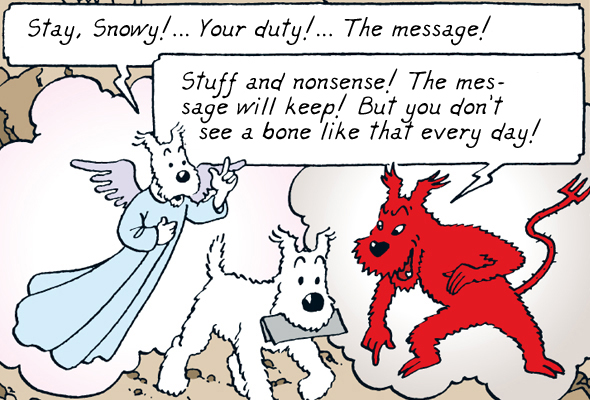 Tintin in Tibet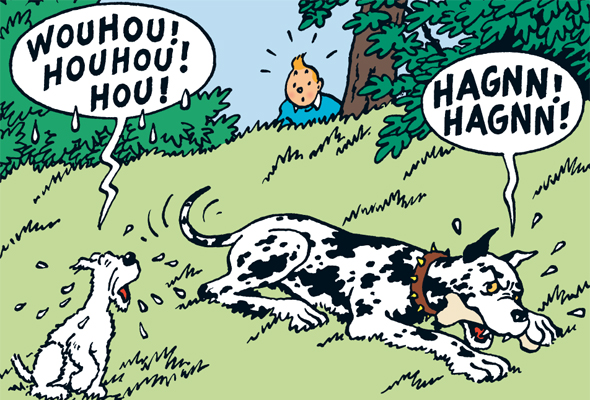 The Black Island
Intemperance
"It is not difficult to find similarities with Captain Haddock, bad tempered, talkative, irritable and stubborn, boastful, blunderer and unlucky". (The key characters in Numa Sadoul, Tintin et Moi, p.240).
The arrival of Captain Haddock in the Tintin adventures will lead to Snowy being less talkative. In a sense, Snowy will be replaced by Captain Haddock.
Slightly theatrical
Snowy enjoys wearing certain outfits, a fur-coat for when it is freezing, a space-suit. Sometimes he dresses-up just for fun!