Bpost pays homage to a pioneer in comic strip publications with special stamps.
The sheet of stamps was based on the front cover of the second issue of the magazine.
Designer Myriam Voz says, "It is an original idea. I was asked to make the sheet of stamps portray a front cover. But I had to take into account that there were two versions of the magazine: French and Dutch. In the end, technically it was too difficult to make two different sheets."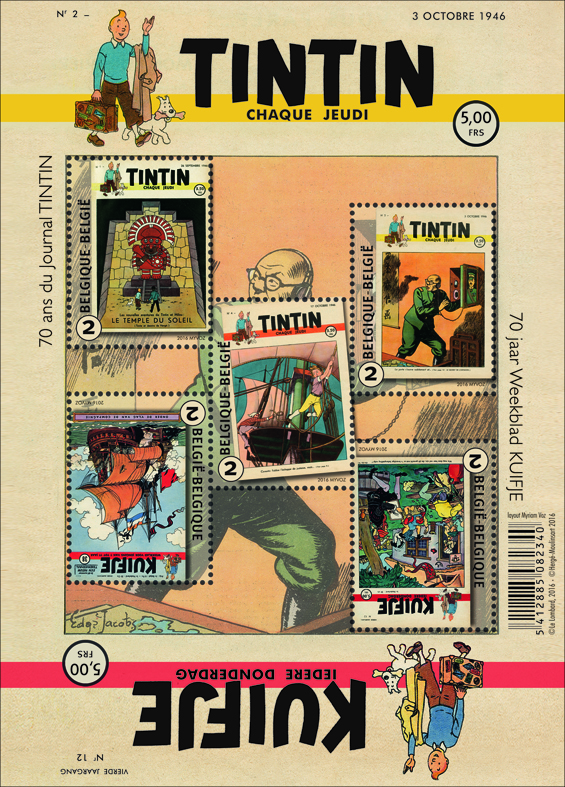 Copyright © Moulinsart / Le Lombard 2016
For more information, click here! ( p. 11)
The original idea was to have the two covers facing each other on the sheet – enough to delight both Tintin fans and stamp collectors.
The stamp sheets will be available from 22 August at the Brussels Philaboutique (10 am to 1 pm and 2 pm to 5 pm), Boulevard Anspach 1, 1000 Brussels.
A special early sale will be organised on 20 August from 10 am to 3 pm at the following address: Casino Modern Genk, André Dumontlaan 2, 3600 Genk.
For those who cannot travel to either of the physical locations to acquire the stamps, the stamps sheet will also be available on the Bepost online shop..
See the complete calendar of Tintin events