After he became the editor of "Le Petit Vingtième", in 1928, it was not long before Hergé sent his young hero Tintin on adventures around the World.
Tintin stopped in India several times. On the first occasion he was hot on the heels of drug smugglers, and accidentally crashed an aeroplane in the state of Gaipajama (Cigars of the Pharaoh, 1932). It was not long before Tintin met the maharaja of this kingdom.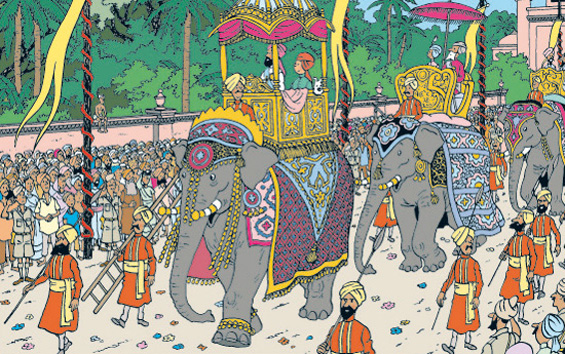 In the 1941 theatre play Tintin in India - the Mystery of the Blue Diamond (written in collaboration with Jacques Melkebeke and put on at the Théâtre des Galeries in Brussels), the Belgian sleuth solves a mystery in the fictional state of Padakhore.
In "Tintin au Tibet" (1959), while travelling to the Roof of the World Tintin and Captain Haddock stop off in Delhi; they take the time to admire the Red Fort and the Qutab Minar.
A map of the East, adventure stories, maharajas, fakirs, sacred cows and cobras... all these ingredients come together at the Hergé Museum as visitors are invited on a journey to colourful India.
Le Musée Hergé, in partnership with the Louvain-la-Neuve Museum and the non-profit organisation Mala India (asbl Mala, sponsorship of Indian children in Waterloo) and with the help and advice of Didier Sandman in ?On the roads of India?, in collaboration with Europalia International.