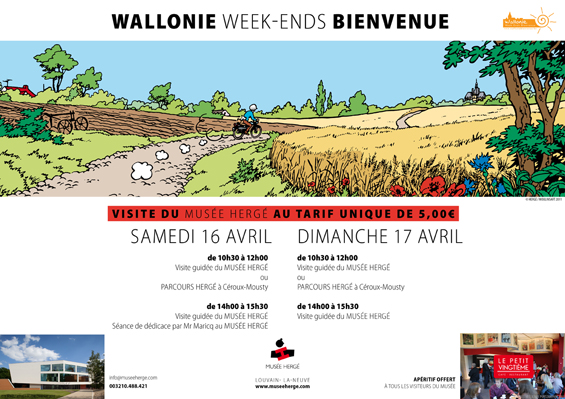 The Hergé Museum is actively involved in the "Welcome to Wallonia Weekend", taking place over Saturday 16 and Sunday 17 April 2011.
This project was created with the aim of introducing the rich and inviting culture of Wallonia to tourists and inhabitants of the region alike. The 2010 event, organised by many different Walloon districts and over 1,850 "ambassadors", proved highly successful.
Within this colourful and rustic context, the Museum is participating in the following way:
All visitors to the Museum will benefit from a reduced entrance fee of 5 Euros, with a free aperitif at Le Petit Vingtième museum restaurant.
- Guided tours of the museum will take place at 10.30 am and 2.00 pm on Saturday and Sunday (reservation required: telephone +32 (0)10 488 421 or e-mail info@museeherge.com
- Dominique Maricq will sign copies of his best-selling book "Hergé côté jardin", on Saturday 16 April from 2.00 to 3.30 pm in the museum shop.
- Dominique Maricq will also lead a country walk "in the footsteps of Hergé", leaving from the town square in Céroux-Mousty at 10.30 am on Saturday 16 and Sunday 17 April (for further information and reservations contact +32 (0)10 474 747).
Welcome to Wallifornia!
Learn + : www.walloniebienvenue.be and ottignies-lln.walloniebienvenue.com