Weta, HarperCollins Publishers and Moulinsart.
Weta and HarperCollins Publishers are pleased to announce that Moulinsart will be publishing the new book The Art of The Adventures of Tintin in the French, Dutch, Spanish and Japanese languages in late 2011.
The Art of The Adventures of Tintin is the beautifully presented book that will accompany the new film from Paramount Pictures and Columbia Pictures, The Adventures of Tintin, due for release in late 2011. This 3D performance capture film, based on the universally popular series of books by Hergé, is directed by Steven Spielberg, and produced by Peter Jackson and Kathleen Kennedy.
The animation, visual effects and conceptual design for the movie have been created by Weta, the multi-Academy Award-winning company based in New Zealand that helped create global blockbusters such as The Lord of the Rings movie trilogy, King Kong and Avatar. The Art of The Adventures of Tintin was created by the actual Weta artists who brought Hergé's wonderful Tintin characters to the big screen.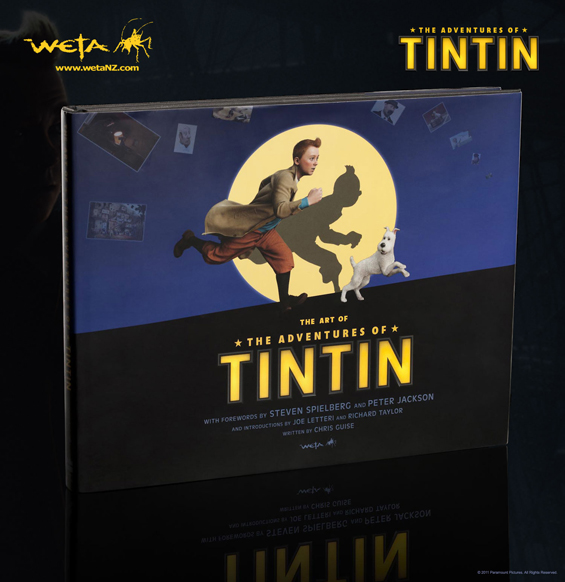 From early concept illustrations to final stills from the film and everything in between, this book gives fans a rare glimpse of the creativity that goes into making a film of this calibre a reality. It even includes special pieces of artwork produced exclusively for this book.
The Art of The Adventures of Tintin features forewords from Steven Spielberg and Peter Jackson. Oscar winners Joe Letteri and Richard Taylor also share their insights into the film-making experience in their introductions for this outstanding book.
The Art of The Adventures of Tintin will be published in English-language editions by HarperCollins Publishers in the US, UK, Australia and New Zealand simultaneously on 13 October 2011.
To Know more about Editions Moulinsart, click here (pdf )
Link : www.wetanz.com