Episode 7
Tintin returns to Congo
On December 29, 1969, Clément Vidibio, the editorialist of Zaire, the weekly of Central Africa, wishes "Happy Holidays" to his readers with a short, but oh so admirable, text of sensible intelligence. His title: Tintin returns to the Congo.
For him, if the Congo of Tintin is a "fabulous country", "where the good men are most often Congolese, and where Tintin, the generous hearted, will fight against the evil incarnated by a bad white", "it is especially a a kind of terrestrial paradise found by the white man (...), where he could, finally, taste the happiness of a fraternal humanity. This fraternal humanity, for Hergé (...), is that of the Congolese ".
This friendly feeling was widely evoked in The case "Tintin au Congo" or the Ransom of Glory, written by Ch. Dierick.
To read: https://fr.tintin.com/books/show/id/25/0/5-l-affaire-tintin-au-congo-ou-la-rancon-de-la-gloire
This search for meaning has lost none of its relevance and still resonates today with some people (see Supra, Congo, the testimony of the past and a glimpse of the future).
But others may not share this point of view and see something else:
"Tintin in the Congo is not just a distraction. When Hergé wrote it, he probably did it "to make people laugh" as Philippe Goddin says, but he created, perhaps unwittingly, a political work, part of colonial propaganda that aims to explain and legitimise an occupation, while masking abuses. " François-Luc Doyez https://www.lesinrocks.com/2018/12/14/livres/bd/mais-cest-quoi-le-probleme-avec-tintin-au-congo-111149527/
Hergé, as a wise man, replied by rhetoric: "All opinions are free, including that of pretending that I am racist ... But finally, be it! There was Tintin in the Congo, I recognize him. It was in 1930 ... Later, on the contrary, in The Red Sea Sharks, - and even if one speaks there "petit nègre" -, it seems to me that Tintin shows enough proof of his anti-racism, no? Numa Sadoul, Tintin and I, interviews with Hergé, Casterman, p. 74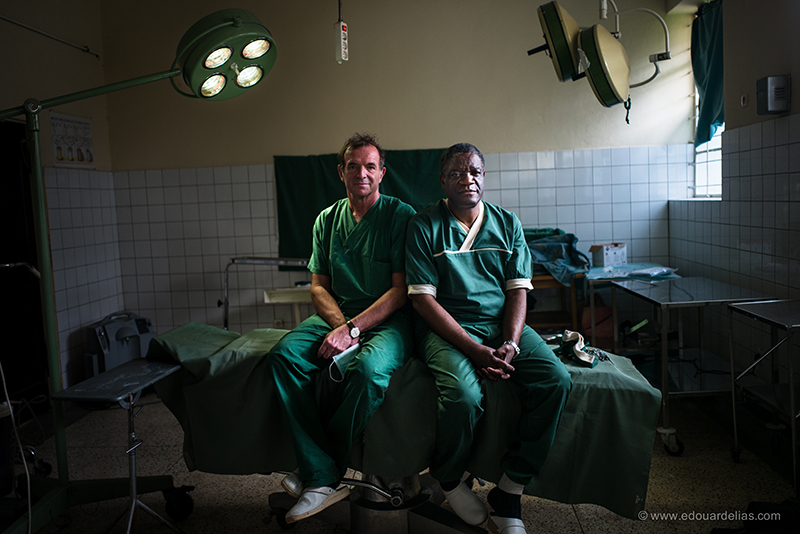 Professors Cadière and Mukwege at Panzi Hospital (DRC) © www.edouardelias.com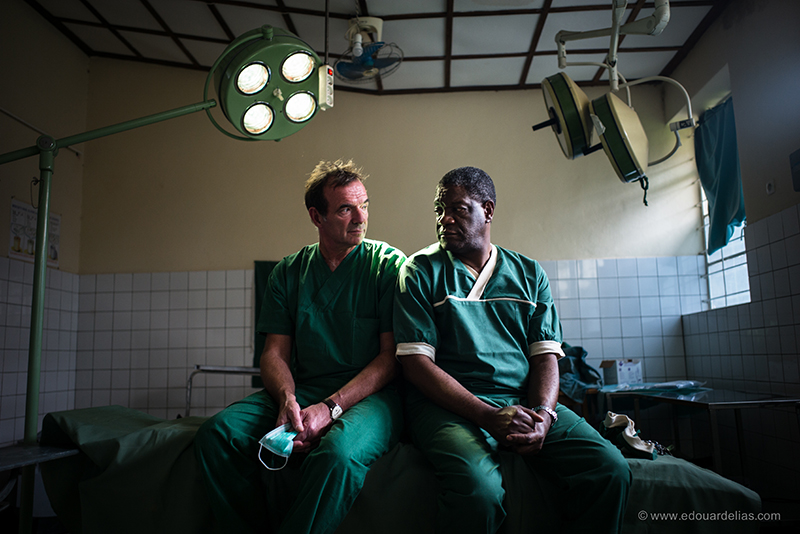 Professors Cadière and Mukwege at Panzi Hospital (DRC) © www.edouardelias.com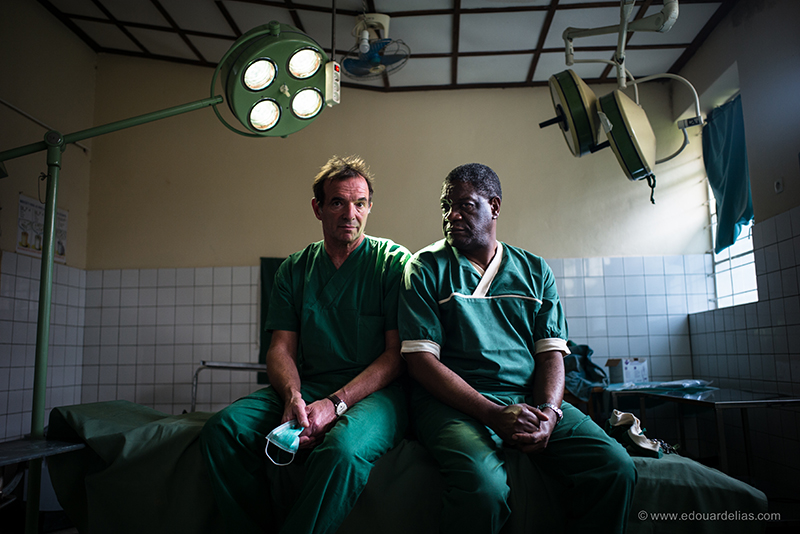 Professors Cadière and Mukwege at Panzi Hospital (DRC) © www.edouardelias.com
During his stay at CHU Saint-Pierre in Brussels, the Congolese doctor Denis Mukwege - Nobel Peace Prize winner 2018 with Nadia Murad - spoke about Panzi, the hospital he has created, this need to recreate paradise in the Congo and to allow the poorest to access the most basic care. "What matters is that we put the man at the center of our interests and concerns, not for what he has, but for what he is."
Mankind is a basic necessity and a primary objective. Hergé and his hero Tintin have understood ... Tintin embodies this self-giving, this end-to-endism, this generous gesture, this step towards the them to help him, to save him or to protect him and to get him out of hostility.
You cannot paint white on white, black on black. Everyone needs the other to reveal himself ... (African proverb).