To mark the centenary of the birth of Raymond Leblanc, the Hergé Museum is organising a temporary exhibition focussing on the career of the founder of Tintin magazine. The exhibition will be open from 22 May to 31 July, 2015.
There are 100 years …
Raymond Leblanc – founder of Tintin magazine, Editions du Lombard, Publiart and Belvision Studios
The weekly children's magazine Tintin was published for the first time on 26 September 1946, and was an instant success.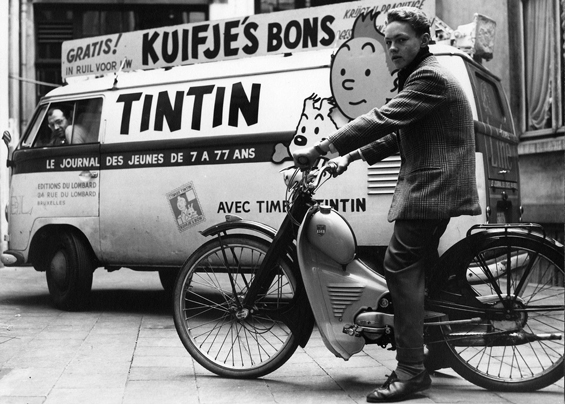 The two directors of the magazine made an amazing team: Hergé and Raymond Leblanc. The artistic sense of one and business acumen of the other complemented eachother perfectly. Self-made entrepreneur Raymond Leblanc had a nose for talent and was a genius at marketing. He was also the first in Europe to create a cartoon studio: Belvision. A new building was completed in 1958 to house the business, a stone's throw from the Gare du Midi in Brussels. The offices also served as the headquarters for publishing house Editions du Lombard, which Leblanc also founded. On the roof of the building stood a giant luminous sign of Tintin and Snowy. The Hergé Museum is honoured to pay homage to this inimitable figure in the history of comic strips.
Fondation Raymond Leblanc