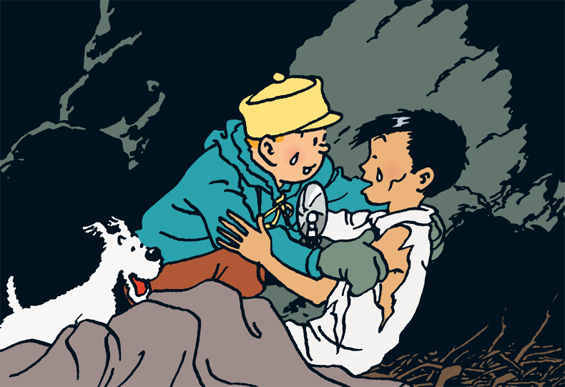 Tintin au Tibet - Page 56
Did you know that the Council of the European Union has declared 2011 to be the year of voluntary work. Let's find out a little more about the world of people with big hearts!
To begin with, what does it mean to do voluntary work? A volunteer is someone who works without being paid and without being under any obligation. Volunteers carry out voluntary work. It would generally be correct to say that volunteers have a benevolent attitude. The Latin origins of the adjective 'benevolent' show it to be made up of two words: 'bene' (good) and 'volens' (I want). So being benevolent means wanting good. And yet volunteering for something does not necessarily mean that the volunteer will not receive anything in return. Consider the case of voluntary service within the army.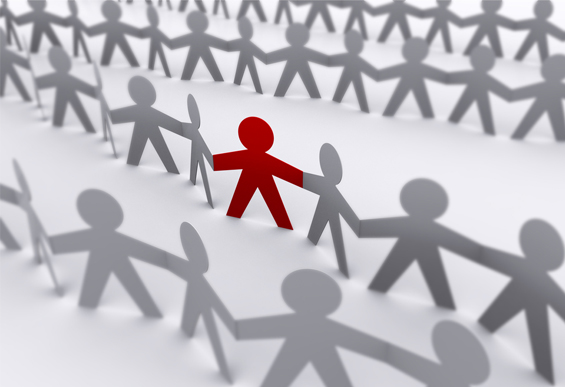 In ancient times, in Greece and Rome, citizens were required to do a period of military service, strengthening the army's resources. But sometimes, if there was an exceptionally long and difficult war, an appeal was made for extra volunteers who had not taken part in military service. Full citizens made up a very small part of society as a whole. Volunteers were recruited among foreigners (immigrants, as we call them today) and sometimes among slaves. These volunteers were promised citizenship in exchange for their services. There were many benefits associated with being a citizen of Athens, Sparta or Rome.
Let's begin with the Bible. When he was a boy the future King David was resented by his family. He was given the worst household chores. At this time, a giant called Goliath was Israel's public enemy number 1. Even the bravest warriors didn't dare to face him: those who had attempted to fight him had been killed. When little David, armed with a catapult, volunteered to stand up against Goliath, his whole family laughed out loud. But in the end David triumphed over Goliath. The young David didn't expect anything in return for his act of bravery. He had simply acted with benevolent spirit'he wanted to do good for his people. Of course, in the story David did gain something from what he did: he became the greatest king in the history of Israel! Today David's Book of Psalms inspires people all over the world.
Looking for a voluntary worker deep in the jungle. The reporter-explorer Henry Morton Stanley confronted the dangers of the Congolese jungle, to find missionary David Livingstone. When they finally met, Stanley greeted Livingstone with the following phrase, which has since become a legendary example of the British 'stiff upper lip': 'Doctor Livingstone, I presume?' In the nineteenth century it was not socially acceptable to show too much emotion.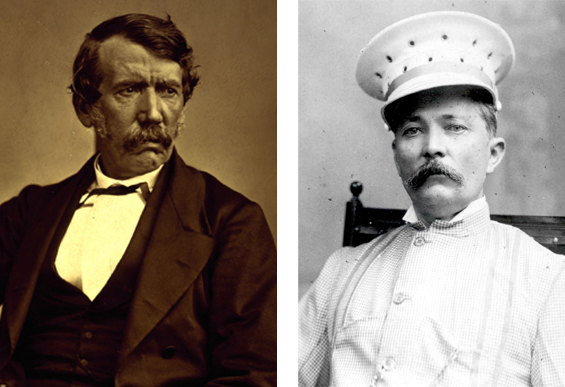 David Livingstone et Henry Morton Stanley
Hergé did some voluntary work after World War II (1939-1945). European countries were completely drained of resources and children didn't have enough to keep themselves distracted. Hergé organised small Tintin-themed events to help children who had been hit hard by the war. He visited a school in Watermael, a Brussels suburb. The author was accompanied by Edgar-Pierre Jacobs and other cartoonists from Tintin magazine.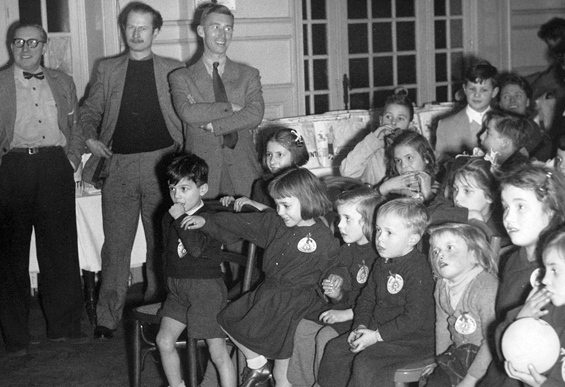 copyright
This may sound like a rather odd proposition but it is true that, in the past, many people who carried out voluntary work did so for religious reasons. Missionaries arrived in exotic countries (South America, Asia, Africa, etc.), bringing medical aid to disadvantaged populations. But as well as bringing aid the volunteers worked to evangelise the men and women they met. Religions have often spread in this way. Much of Europe became Catholic under the influence of missionaries. People like Martin of Tours and Saint Patrick worked hard to establish the Christian religion.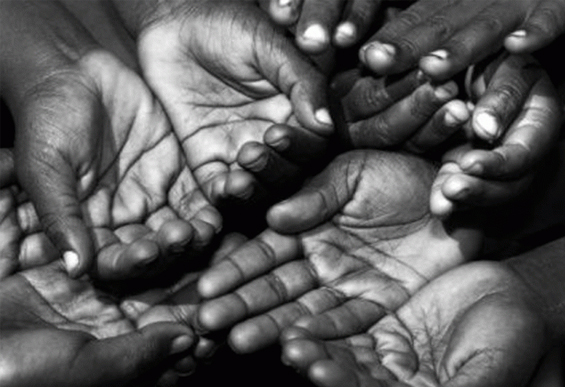 Today most volunteers - even those sponsored by churches - carry out social work as well as bringing material aid to deprived people.
In Africa the humanitarian situation is still so bad that in many cases it is only volunteers who dare to get involved! Although they may generate an endless stream of rousing rhetoric, the governments of these countries don't show much respect for their populations. Rich and powerful countries usually only get involved if they see some kind of military, strategic or economic benefit for themselves.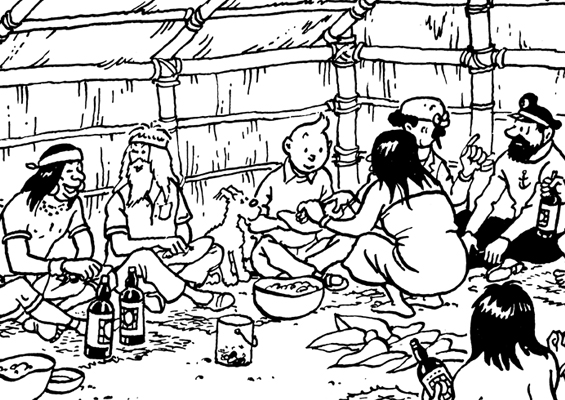 Tintin et les Picaros page 33
Aid agencies are usually relatively small organisations of limited means that, sadly, are not able to help everyone who needs assistance. To compound difficulties misery is often accompanied by danger, making it a hazardous occupation to be an aid worker in many regions. Corruption in many countries is rife. The safest way to donate money is to give it to aid agencies; money provided to governments is often diverted into the pockets of a few corrupt officials.
< p class="texte">Why not? Even in a little country like Belgium there are nearly a million people who take part in voluntary work of some kind (there are 11 million people living in the country). Ideally aid agencies are separate entities from the authorities in the locations in which they work. In fact they make up for inefficiencies in the official systems already in place. In big towns some people volunteer to help children do their schoolwork. Doctors may choose to use their experience to help sick people who cannot usually afford their services.

Marc Nederlandt, coordinator of the 'Association for Voluntary Service' ( www.volontariat.be) gives his definition of voluntary service: 'It is the idea of giving one's time and experience. The gift is not something that we lose; on the contrary it is something that we gain.' There is no lack of work to do but there are never too many volunteers!
Annelyse is a 31-year-old economist working in the village of Imuhira, Burundi. Why did she become a volunteer? 'I wanted to invest my efforts in humanitarian development. I train my colleagues to use Excel computer software. There is an enormous need here. Burundi is nothing like the arid images of Africa that we see on the television. Nevertheless, the authorities advise white people not to walk outside after nightfall.'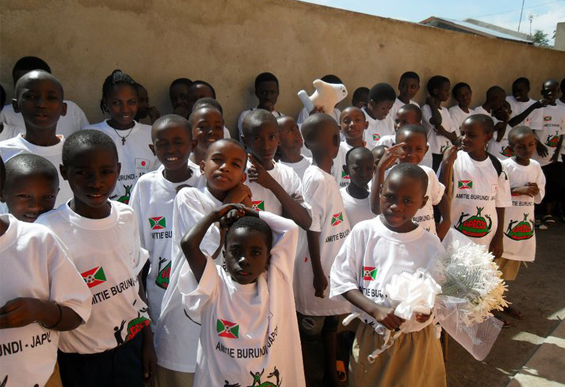 Patrick's journey was different. He accepted a three-month mission travelling to the same Burundi village: 'I work in Louvain-la-Neuve, Belgium, for a car-park company. I have two children: 8 and 11 years of age. I had to pay for my own aeroplane ticket, request a period of non-paid holiday, and organise my children's daily schedule during my absence. My work in the village of Imuhira consisted of installing lighting and electric sockets in every classroom in the school. It was not always easy work due to a certain degree of disorganisation, but we got there in the end. And seeing the children's' happy faces made me forget all the problems we encountered!'
You can do voluntary work close to where you live: volunteers don't only work in faraway countries. While poor countries certainly need all kinds of material aid, it is also true that in countries that are better off there are other problems, often to do with society, that seem to be growing. It is important to know your goals before launching yourself into voluntary work. Without forward planning you could get discouraged at the first obstacle you come across. Most people should not put their whole lives into voluntary work. It is usually difficult to help others if we cannot help ourselves! If you are planning to set off for a faraway country it is important to choose a well-established organisation. Here is an address at which you can find out more information: "http://www.selprojets.be" www.vso.org.uk

If you like helping sick people, providing transport for people or organising events for children, for example, then you are ready for the great adventure that is voluntary work!