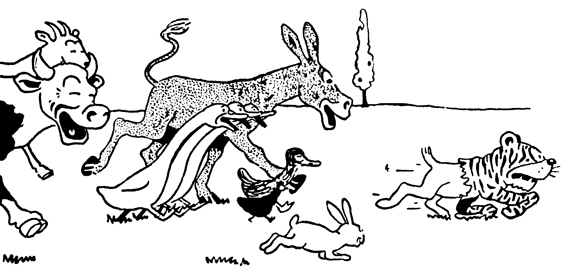 Tintin in the Land of the Soviets (1930) - Page 125
We hope that you have all settled back in to school nicely ! In this report we are going to tell you about some of Hergé's 'teachers'. None of them worked at a school, in the sense of the word as we are using it just now. Benjamin Rabier, Geo McManus and Alain Saint-Ogan were well-known authors at the time that Hergé was launching Tintin on his first adventures. Let's find out a bit more about them.
Benjamin Rabier (born - La Roche-sur-Yon, 30 December 1864; died - Faverolles, 10 October 1939) gained a reputation for being the illustrator who could 'make animals laugh'. The general public still see Benjamin Rabier's work everywhere, without even knowing it. In 1921 Rabier created the famous, funny and fun-loving 'Vache qui rit' for cheese-maker Léon Bel. The logo of the little French cheeses is unmistakably from the same hand that drew the stories of Gédéon the duck, whose adventures began to be published in the early 1920s.
Do you have to be an animal lover to draw good pictures of animals ?
Not necessarily. It is ironic that Benjamin Rabier never really liked animals. On the other hand, Hergé adored animals. The funny thing is that the creator of one of the most famous dogs in the world, Snowy, never owned anything else but cats as pets!
Do animals laugh ?
Many people think that laughter is unique to humans, and even that it is the key to what makes us different from animals. People also say that hyenas chortle, but this is perhaps simply anthropomorphism : a very human interpretation of an animal cry that sounds a bit like laughter. Others say that Benjamin Rabier was the man who made animals laugh. In the French author's case, his trademark animals began with a mistake. One day, as he was drawing, Rabier drew a line to heighten the effect of a dog's snarl, but it was too long. Readers saw the wide snarl as a smile, and one or two even wrote to the editor of the magazine in which Rabier was being published at the time. The general response was positive and from then on, Benjamin Rabier drew more and more animals smiling !
How to draw animals
All artists will tell you that to draw an animal well, you have to observe it well. Benjamin Rabier, who didn't like being around animals, nevertheless worked as a ticket-seller and accountant at a circus. He had the time to watch the little society of exotic animals, day after day. At the Hergé Museum, visitors can admire many preparatory sketches of Snowy, the cat from Marlinspike Hall and... the yeti, a creature that, thanks to Hergé's beautiful tale Tintin in Tibet, became better-known for his human qualities than for being an 'abominable snowman'!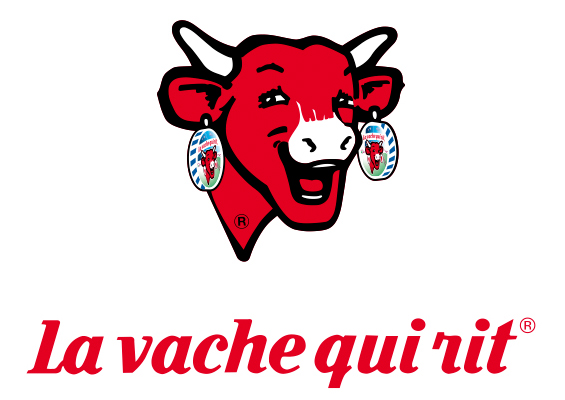 La Vache qui rit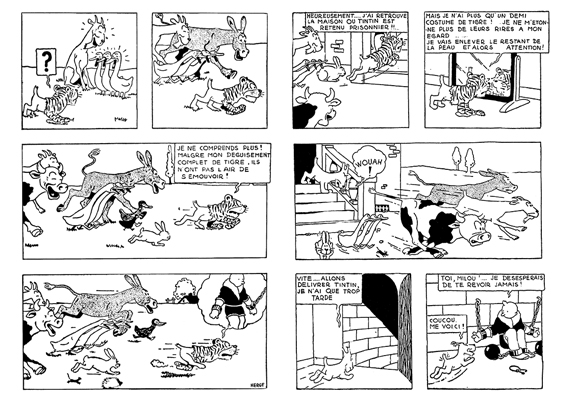 Tintin in the Land of the Soviets pages 126 and127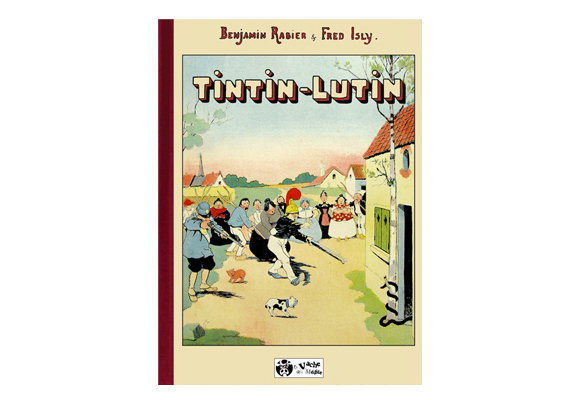 Tintin-Lutin
In 1906, Les Fables de la Fontaine were published with illustrations by Benjamin Rabier. The book was republished many times, and Hergé wrote the preface for one of the editions. The creator of Tintin openly acknowledged the influence of Rabier's unique animal drawings, and the debt he owed to the author. In 1929 Benjamin Rabier was leafing through the pages of a magazine and discovered, for the first time, the trials and tribulations of a certain Tintin, who was on an adventure in the heart of the Soviet Union. On pages 126 and 127, a few grinning animals - a donkey, a lamb, three geese and a rabbit - that look like they come straight out of the adventures of Gédéon (published in 1923), can be seen walking along. On the second strip of page 127 we come across a cow who is the spitting image of La Vache qui rit ! Stranger still, in 1898, Rabier had illustrated a series telling of the daily pranks of a little scallywag called Tintin-Lutin.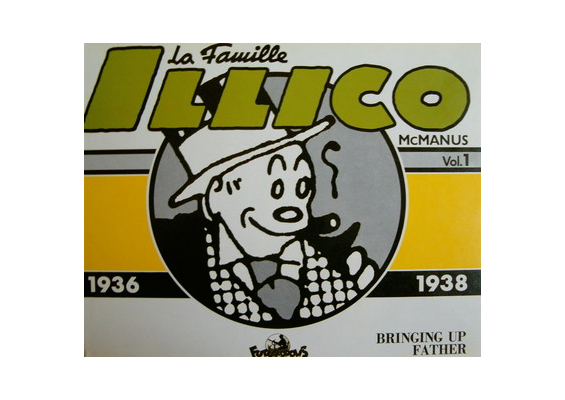 La Famille Illico by George MacManus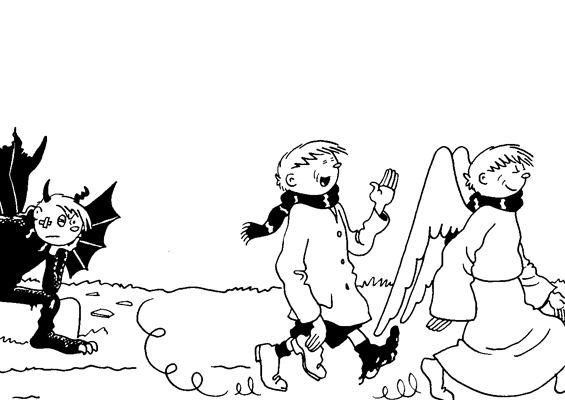 Quick and Flupke
Hergé acknowledged other influences, including the work of George MacManus. This Irish cartoonist was born in Missouri on 23 January 1884. Right up until his death on 22 October 1954 (Santa Monica, California), McManus worked on a daily comic strip entitled Bringing Up Father. MacManus worked for newspapers directed by American media tycoon William Randolph Hearst, the man who inspired the main character in Orson Well's film Citizen Kane. In competition with the other press magnate of the times, Gordon Bennett, Hearst commissioned a comic strip based around a family and its daily ups and downs. George MacManus was inspired by a play entitled The Rising Generation. The storyline revolved around the life of Jiggs, a bricklayer-turned-millionaire, and his wife Maggie. The rags-to-riches theme was very popular after the First World War. Frenchman Sacha Guitry took up the theme in several of his plays while in Belgium, plays like Le Mariage de Mademoiselle Beulemans also told stories of middle-class families striking it rich.
1. What did Hergé admit to copying from George MacManus ?
Noses ! 'I find these noses funny,' he confessed. We can see the influence in the features of Quick and Flupke, most notably.
2. Are there other parallels between Hergé and George MacManus ?
Yes. They were both art lovers. They were also influenced by the art deco style, which can be seen in the scenery of the first Tintin adventures and in the strips of Bringing up Father. Yet the authors had very different senses of humour.
3. Are new strips of Bringing up Father still being drawn ?
No. George MacManus died in 1954, but his series continued until 28 May 2000. It was taken up by many artists, including Frank Fletcher, Frank Johnson and Vernon Greene.
4. How did Hergé discover Bringing up Father ?
Through American newspapers that were sent to the editorial office of the Brussels daily paper, Le Vingtième Siècle, for which the young Georges Remi was working at the time.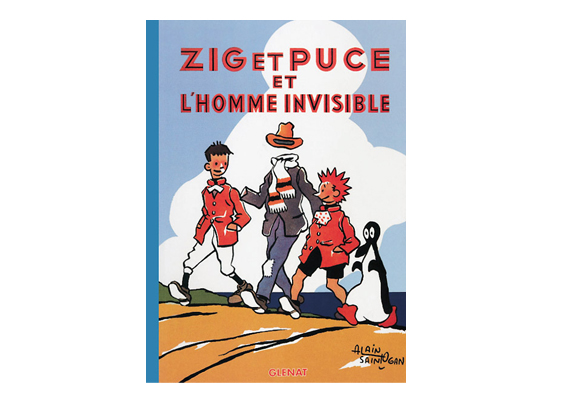 Zig et Puce - Comics made by Alain Saint-Ogan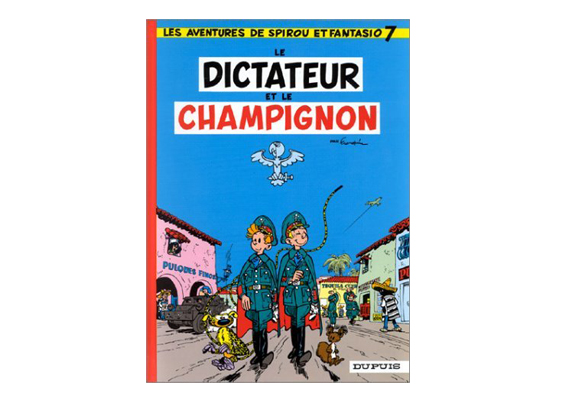 Spirou - Comics made by Rob-Vel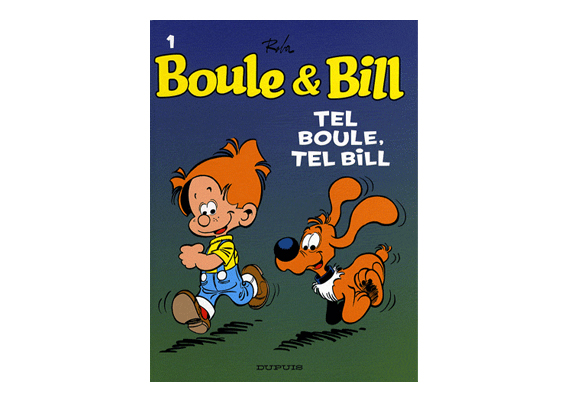 Boule et Bill - Comics made by Jean Roba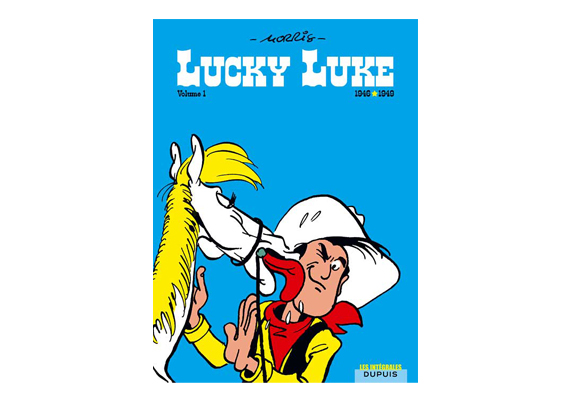 Lucky Luke - Comics made by Morris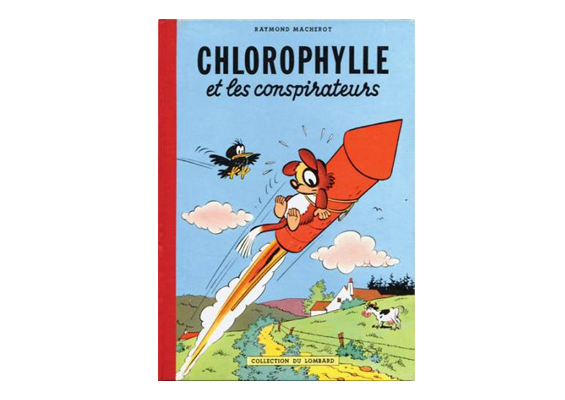 Chlorophylle - Comics made byRaymond Macherot
Jo et Zette
There was a third influence on the young Hergé: Alain Saint-Ogan and his series Zig et Puce. This French cartoonist (7 August 1895 - 22 June 1974) was the first European to write dialogue in speech bubbles. Saint-Ogan was a prolific author who primarily thought of himself as a journalist - a journalist who drew things - which was a feeling that Hergé would have understood. It was, nevertheless, comic strips that would make him famous. Zig et Puce first appeared on 3 May 1925, in the magazine Dimanche illustré. It was only later on that the two teenagers made friends with Alfred, a penguin from the South Pole, who would become their long-term companion.
1. Why do comic-strip heroes often have animal companions ?
Tintin has Snowy; Zig and Puce have their penguin. At the beginning of the series in 1938, Belgian comic-strip character Spirou walked alongside his friend Spip the squirrel. Later on he would make friends with an unusual creature named Marsupilami. We can't imagine British scallywag Dennis the Menace without Gnasher his pet dog. What would Calvin do without Hobbes? Animals make ideal companions for adventures: when all seems lost, pets can usually find a way to rescue their masters!
2. Do comic-strip animals speak ?
Some comic-strip creatures can't talk. Alfred the penguin is mute. Dogmatix - Obelix's dog in Asterix - also can't speak a word. Hobbes speaks to Calvin, but from the youngster's parents' point of view, the stuffed tiger is always as quiet as a mouse. Jocko, the chimpanzee in Jo et Zette (one of Hergé's other series) doesn't speak. In the beginning, Snowy talked to Tintin, but when Captain Haddock arrived on the scene, the little white terrier took to thinking about things rather than talking about them.
3. What are the most popular comic strip animals in the world ?
Snowy must be one of them ! Snoopy has to be another. It should be noted that very few heroes are accompanied by a cat, although some cats are heroes, or antiheros in the case of Garfield !