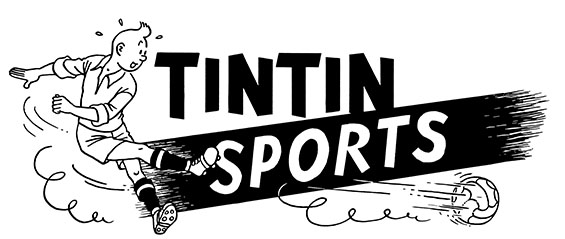 Titre de rubrique illustré pour le journal Tintin (1946)
Over the next month, 32 teams from 5 continents are going head to head in South Africa during the biggest tournament in football : the World Cup. The continents are, in descending order of representation at the games : Europe, America, Africa, Asia and Oceania. The sport of football is played by around 250 million people worldwide, amongst whom are included the future Ronaldos, Rooneys and Kakas.
Sixty-four matches in one month : sheer heaven for football fans ! Sales of televisions have soared. Dieticians and doctors are in utter dismay to see the vast quantities of beer and crisps being guzzled. There isn't much on TV, unless you like football of course. There isn't much point in trying to get your friends to meet up : they're all glued to the screen ! So for those of you who don't like football, the World Cup may seem like a pointless ordeal. But if we look a little closer, there is much more going on as a result of the games than we might at first imagine. As the World Cup is the most popular spectacle in the whole world, manufacturers of televisions and audiovisual technology profit from the extra investment in their companies that the event stimulates. From as early as the 1930s, football matches were the subject of the first international radio transmissions. Thirty years later, the World Cup was the first major client of satellite television, which beamed real-time action around the world. In 1994 digital video exploded onto the scene in the United States. The new technique facilitated playbacks, angle juxtapositions, slow motion, and a host of other effects. High-definition cameras were tested during the 2002 World Cup (hosted by South Korea and Japan). High-definition television sales were boosted during the World Cup in Germany (2006). On this occasion, 3D television - following recent developments at the cinema - is being put through its paces. The World Cup is a little like space exploration : what looks like science fiction today becomes part of daily life tomorrow.
Organisers of the World Cup hope to attract over 30 billion spectators this year; 26 billion were recorded during the last tournament held in Germany in 2006. But how can there be 30 billion spectators when there are only 6 billion people living on the Earth ? Are television signals being picked up by alien football fans ? In reality, the astronomical figure of 30,000,000,000 refers to the average number of matches watched (somewhere between 1 to 64) by a spectator, multiplied by the number of spectators worldwide. The figure is extremely important for the organising committee, FIFA, which needs enormous sums of money to keep functioning. FIFA (see our 'true or false' questions below) brings together representatives from 5 continents. On the governing board there are 53 Europeans, 53 Africans, 46 Asians, 45 Americans (North and South) and 11 South Sea Islanders. The current president is a Swiss man called Joseph (Sepp) Blatter. FIFA has always been directed by a European, apart from between 1974 and 1998, when Brazilian Joao Havelange was at the helm.
FIFA is a truly international enterprise : it employs 300 full-time staff. You could even go so far as to say that it maintains a form of global government, with all decisions taken by representatives from each of the 5 continents: Europe, America, Africa, Asia and Oceania. In no other international organisation does Africa hold so much voting power. From the global perspective, the United Nations and other international political organisations - bodies with the power to decide war and peace - have far greater imbalances within their structures.In 2009, FIFA had a turnover of over a billion dollars. Television networks have paid out 1672 million dollars to be able to cover the World Cup matches. A further 870 million dollars are being generated through marketing : a reference to the World Cup stuck on a pot of mustard doesn't come cheap. The stars of the show, currently wowing stadium-goers in South Africa, are walking treasure chests : Thierry Henry receives an annual salary of £6.5 million ; John Terry gets 7 million; Kaka receives £8 million ; Samuel Eto'o makes £8.5 million ; and Cristiano Ronaldo works for £10 million per year. They are the highest-paid reality TV stars !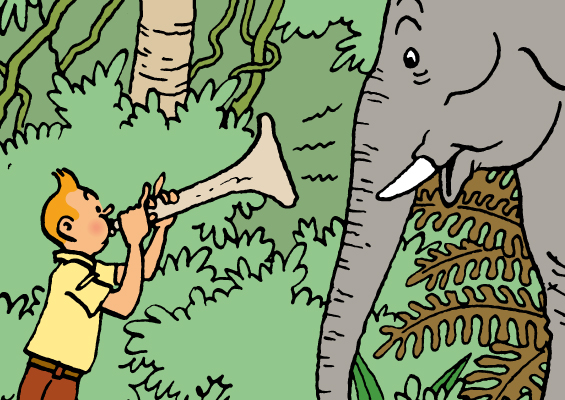 Cigars of the Pharaoh p 35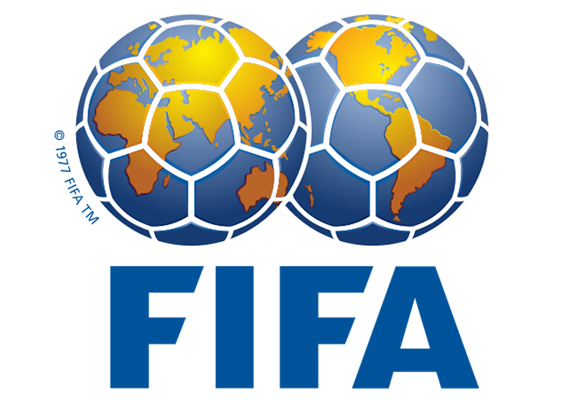 Logo FIFA
For those of our readers who are not up to date with the latest in noisy memorabilia, the vuvuzela is a kind of long trumpet made out of bric-a-brac, which is extremely popular all over stadiums in South Africa. The instrument was invented in 1974 by Freddie Saddam Maake, an inhabitant of Tembisa, one of the poorest slums of Johannesburg. Now 50,000 vuvuzelas are made in China every day. It was a man called Neil van Schalkwyk, who made a fortune marketing the 'devil's weapon'. Why is the elongated horn called the devil's weapon? Because it doesn't make a particularly pretty noise, becoming deafening when 80,000 people blow on their trumpets at once! So would we ever come across Tintin, a vuvuzela tucked into his belt, among the crowds in the South-African stadiums? Our young hero doesn't kick a single football throughout the entire series of his adventures. Nevertheless, Hergé did portray his little reporter underneath the colours of an imaginary club on one occasion: this illustration served as a headpiece for sports news in Tintin magazine, in the 1950s. The journalist who wrote the articles was a famous correspondent of the era : Luc Varenne. Tintin does, however, use his amazing ingenuity to carve a vuvuzela from the branch of a tree - a proto-vuvuzela ! Reread pages 34 and 35 of Cigars of the Pharaoh. Check out Tintin's vuvuzela and his clever way of using it to talk to elephants !