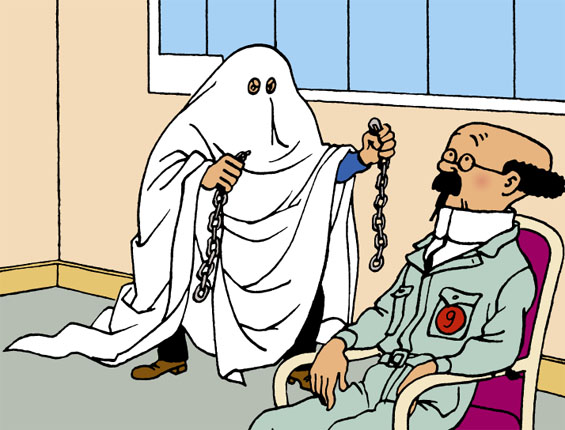 Destination Moon (1953) - Page 49]
At the end of October, ghosts, witches, wizards, zombies, vampires and skeletons all appear as if by magic. Where do they come from? What do they want? These are the kind of questions that an inquisitive person such as Tintin likes to be able to answer!
Halloween: is it an ancient Irish tradition, an American commercial dream or a bizarre foreign import (to Europeans)? It's actually a bit of all of the above, but these days it's most importantly a party for children for whom magicians, witches and ghosts are extremely popular. Consider current television programming: the Merlin series is a big hit, and we've lost count of how many witches go to school on TV in America. Need we even mention Harry Potter? The young magician, for whom supernatural phenomena are a part of daily life, is a hero to all those young hopefuls desperate to win a place at his school of witchcraft and wizardry. We are definitely living in an age of sorcerers, but the question is, why?
The celebration of Halloween should be considered in context. Halloween takes place on the night of 31 October. It is an ancient tradition with Celtic origins, and it dates back to before Christianity. All Saints' Day is, as the name suggests, a Christian festival for saints which takes place on 1 November. In the Catholic Church, although the title ?Saint' (with a capital "S") refers to a person who has been formally canonised (recognised) by the church, it is taught that there are many "saints" (with a small "s") who reside in Heaven and on Earth, who have yet to be recognised. So the festival is open to everyone! All Souls' Day (2 November) is a commemoration of all those who have passed away. Unlike All Saints Day, which is a happy occasion (as if it were everybody's birthday), All Souls' Day is a more sad and sombre affair.
The Mexican equivalent of All Souls' Day is known as the Day of the Dead, and it has become a delirious party. It still takes place on 2 November, but you certainly won't see many people crying their eyes out! On the contrary, a tradition of making skeletons creates a flurry of activity for every baker and cake-maker in the country. As a way of celebrating the dead, Mexican families buy "dead heads" made out of sugar, on which they write the names of the deceased, and children go wild for them. It's enough to make your hair stand on end! The Day of the Dead is a colourful blend of Catholic festivities with some old Aztec traditions which honour and worship the dead.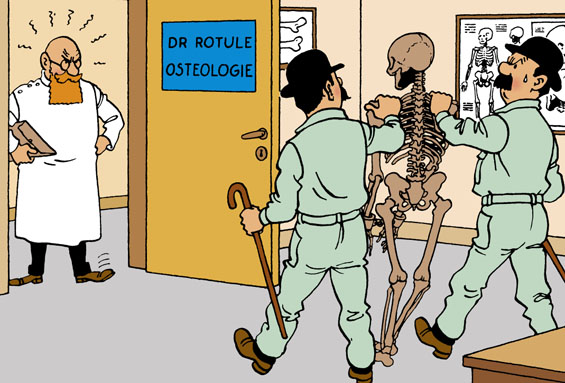 Destination Moon p.25 - 1953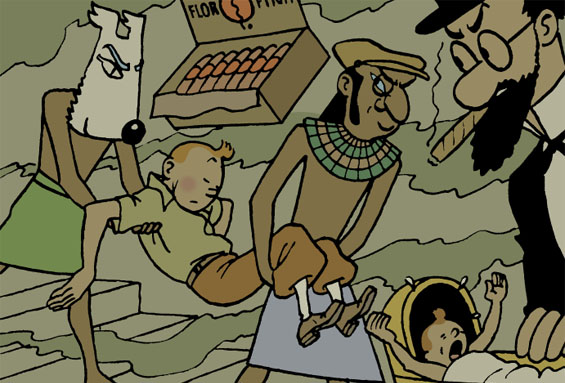 Cigars of the Pharaoh p.9 - 1934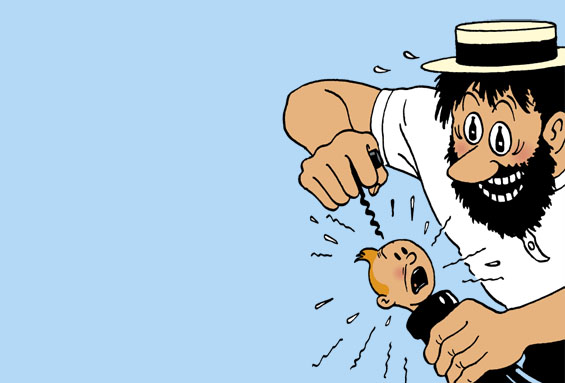 The Crab with the Golden Claws p.32 - 1941
The origins of Halloween remain a mystery to this day, as does the etymology of the name of the festival itself, which is not American as so many people believe. Historians argue over possible explanations The most plausible theory posits that the festival goes back to the time of the Druids and Celts. These tribes occupied a major part of Western Europe, as well as Great Britain and Ireland, for many centuries, but everything changed with the Roman conquests (a little before 1 AD). Apparently the Celts dug up their dead at a certain time during the year, so that they could ?join in' with festivals, ensuring that they were having a good time in the afterlife.
While you can find sugar skeletons in Mexico, in Madagascar the dead are exhumed for parties! Furthermore, within the traditions of certain Indian tribes in America, a person's body is exposed on the top of a kind of watchtower for a year following their death, after which their remains are burned in a special ceremony. Fantasy literature and cinema thrive on ghosts and stories of people coming back from the dead. Human beings have always been afraid of the dead returning to wreak vengeance on the living. The kinds of things that they could be angry about include having had something bad done to them, or someone having forgotten to do something specific for them during their lifetimes on Earth. All these traditions and beliefs seem to suggest that life doesn't end at death. Do we really survive, in some form or another, after we die? This is a huge question which has yet to be answered; it has been the top trump for every religion since time immemorial!
In Hergé's world, ghosts only exist to make us laugh: Quick and Flupke play ghosts, and Captain Haddock dresses up as one so as to scare Professor Calculus out of his amnesia.Sometimes in his stories, similar phenomena appear in the form of mirages, such as those that afflict the Thom(p)sons in Land of Black Gold, or the time when Captain Haddock imagines Tintin as a gigantic bottle of whisky in Cigars of the Pharaoh! Nevertheless, Hergé did take the supernatural, the afterlife and the world of dreams seriously. For example, in The Seven Crystal Balls, he arranges for Madame Yamilah to reveal the curse of Rascar Capac, and it is with the aid of a dream that Tintin hears Chang's cry for help in Tintin in Tibet. Don't be too quick to think that ghosts don't exist: in fact it might be worth having a look behind you!