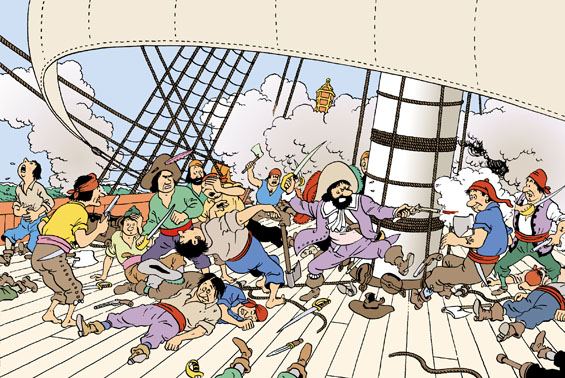 The Secret of the Unicorn (1943) - Page 19]
Welcome to a very special edition of the Tintin journal, covering the latest developments in an extraordinary project, which has been 27 years in the making. We are pleased to confirm that filming for The Adventures of Tintin: Secret of the Unicorn, directed by Steven Spielberg and to be released in 2011, has got underway!
It was on a day like any other at the end of October 1982, that a telephone call was received in Brussels. The subsequent conversation went something like this: "Kathleen Kennedy speaking. I'm calling on behalf of Steven Spielberg. He would like to know if it would be possible to acquire the rights to make a film based on the The Adventures of Tintin." And it wasn't a hoax, as a letter arrived soon afterwards, confirming his request. Following many years, and plenty of stops and starts, it's all coming to fruition. Of course we can't wait to see it, but we just need to be patient for a little longer as it will be coming out in 2011! It'll be interesting to see the results of the 3D motion capture technology (mocap), developed by Peter Jackson, which will be used to bring the world of Tintin vividly into three dimensions, while retaining some of the qualities of Hergé's original artwork.
This technique involves "filming" the movements of an actor or actors, with each movement being recorded many times a second. The series of coordinates acquired by the technique are applied to a three-dimensional model (usually a drawing) which in turn picks up and mirrors the movements of the live actor. Motion capture only picks up the actions and gestures of the actor; not the way they look or their facial expressions, although these subtle features of acting can be caught in a similar process called performance capture. Invented in Scotland, motion capture technology is preceded by a technique called rotoscoping. The rotoscope, used by cartoonists making animated films from the early 1900s, worked by projecting a film with real actors onto a screen on which a cartoonist would trace the outlines of the characters. In this way it was possible to copy quite realistic movement.
It is interesting to note that motion capture technology is not only used in the world of cinema. It is a technique also applied in such diverse domains as athletics, medicine and the military. The ability to analyse movements and model objects in fine detail allows an athlete's technique to be scrutinised, a 3D image of human anatomy to be studied, or a virtual mockup of a battlefield to be created. In 1993 Peter Jackson, director of the remake of King Kong and the Lord of the Rings trilogy among others, founded Weta Digital, a company based in Wellington, New Zealand. Weta Digital is pushing the limits of what's possible with motion capture, with startling results readily visible in recent films such as The Chronicles of Narnia: Prince Caspian (2008). The process of transformation from the real to the virtual doesn't detract from actors' talents, although facial features are not necessarily reproduced in the final results. Through mocap, actors can focus on their abilities in movement, and their skills in observation and body language.
The big question on everybody's lips has been without a doubt, "who'll play Tintin?" Since the time Jean-Pierre Talbot (Tintin and the Golden Fleece, 1960, and Tintin and the Blue Oranges, 1964) portrayed the intrepid reporter, no one else has taken up the mammoth role - until now! Jamie Bell, the actor who played Billy Elliot (2000), is Tintin, a dream job and great responsibility for a young actor, 23 years of age, and certainly at the start of a very promising career! We're surprised and excited to learn that Daniel Craig, aka James Bond, will play the notorious pirate Red Rackham, sworn enemy of Sir Francis Haddock. This makes sense, as it has also been established that the first film of the Tintin series will be based on the swashbuckling adventure: The Secret of the Unicorn.
The film is certain to spark controversy among Tintinologists! We should be under no illusions: Spielberg's film will definitely be an original take on the world of Tintin we know from the 24 Adventures. Philippe Goddin, in his book Hergé - Lignes de Vie (Éditions Moulinsart 2007), quotes Fanny Rodwell's account of Hergé's own views on the Spielberg project: "Tintin will certainly be different, but should still be a good Tintin." (p. 972) It's precisely the new perspectives offered by the film that are so interesting. To have the skills of the top directors and actors in the industry focussed on an original, but still very respectful, interpretation of Tintin and the work of Hergé is incredibly thrilling. Furthermore, how could we not be overjoyed to see a character, born in 1929 in the capital city of a little country like Belgium, still commanding such attention at the start of the new millennium? By making it onto the big screen, Tintin will certainly continue to inspire curiosity and attract the interest of people who may as yet be unaware of his existence.
So has this saga of a film in the making come to an end? "I never had any doubt that filming would go ahead," confides Nick Rodwell. "Steven Spielberg gave his word to my wife Fanny, that Tintin the film would be made. Of course, with some people, a word is backed up with armies of lawyers hard at work drafting contracts!" It has taken no less than 27 years to get to the first day of filming (26 January 2009)! After the first set of film rights expired in 1988, there was a proposal made by the Belgian director, Jaco Van Dormael. Nick Rodwell continues, "His ideas were certainly brilliant, but they didn't fully correspond to what we had in mind for Tintin. We also held some discussions with the late Claude Berri, who ended up making Asterix, even though I believe that deep down, he always had a soft spot for the Tintin film." Despite all this, shooting has begun on Spielberg's film! Look out in future journals for more details on this new adventure, set in motion on 26 January 2009!