Dear participants,
A few weeks ago we organised a poll to find out the most popular TF1 Tintin figurines.
A link to the poll:
http://en.tintin.com/news/index/rub/0/id/4646/0/the-adventures-of-the-tintin-figurines
We promised to publish the results of this poll once the voting period was over.
As you would expect, the main characters stole the show! Tintin won first place by a few quiff-lengths, with his faithful friend Snowy following in second place like in his adventures!
In third and fourth positions: Captain Haddock and Professor Calculus.
The first figurines in the series took the most votes, with a few outliers nevertheless (figurine no. 18 – Nestor – was in the top ten, for example).
You can see all the results yourselves. Click on the following link to display the results:
http://www.tintin.com/collection-figurines-tintin-vote/results.php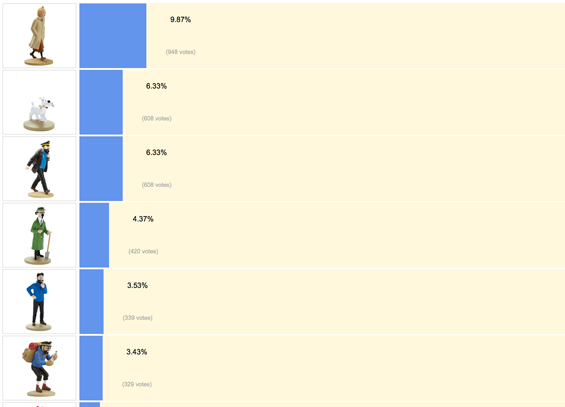 Thank you to all who voted, and we look forward to your participation in future interactive events!