What is the most expensive mushroom in the world?
Last Sunday (1 February), the BRAFA Art Fair one of the most prestigious fairs in Europe closed it's doors on a high note. The original Indian ink front cover illustration for " The Shooting Star " was sold for 2.5 million Euros. It would have been enough to send Captain Haddock into a tirade of colourful language!
The cover illustration for the Tintin adventure is a pure example of clear line comic strip art, and depicts the reporter with his faithful companion Snowy, standing on a meteorite next to a gigantic mushroom.
The black and white drawing, dating from 1942, was part of a private collection for around twenty years, and had been acquired for 76,000 Euros by the previous owner. For unknown reasons, unlike all the other Hergé front cover artwork from the period, this drawing was not part of the Studios Hergé inventory!
Put up for sale at BRAFA, the drawing was acquired for a fixed price of 2.5 million Euros, nearly touching the world record to date of 2.65 million. This astronomical sum was paid for the original art for the flyleaf pages of the Tintin books from 1937 to 1958.
Nicknamed the "Van Gogh of comic strips" thanks to the prices his work demands on the market, Georges Remi (Hergé) leads the way in auction houses, with the rest of the comic strip market benefiting from his success.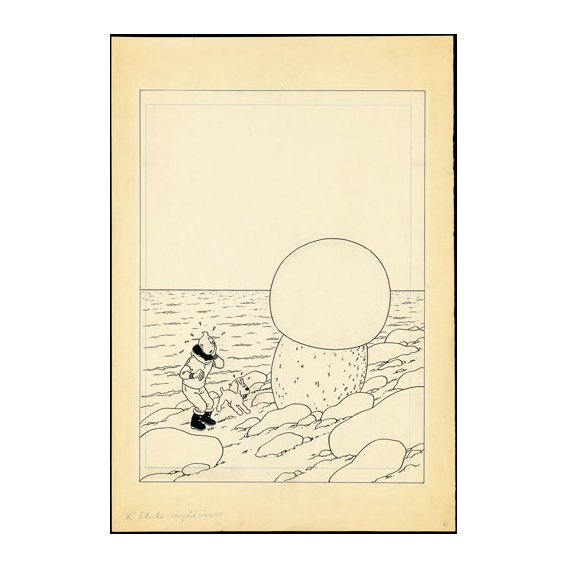 The Shooting Star