The Hergé Museum had a new temporary exhibition: In America with Tintin from Saturday 31st October. Cancellation and more...
The exhibition: In America with Tintin was an opportunity to rediscover Tintin in America through some magnificent original pages never exhibited before, various unpublished documents and numerous pictures to be discovered in Philippe Goddin's new and extremely documented monograph: Hergé, Tintin and the Americans.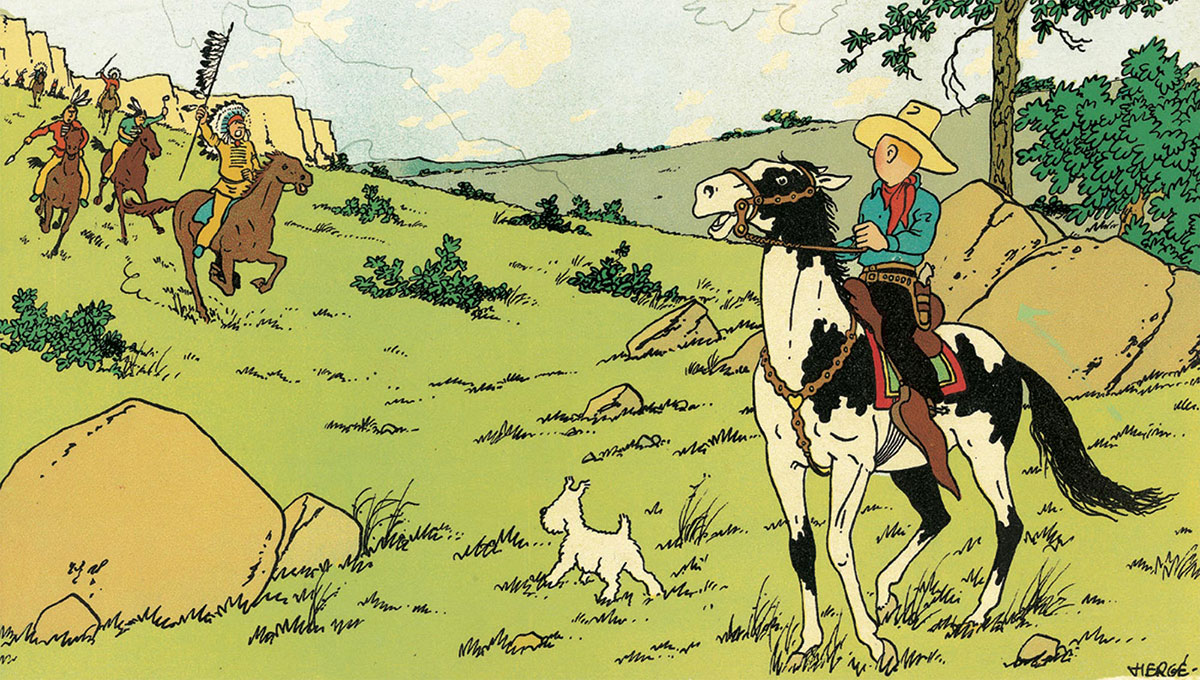 Tintin in America © Hergé / Moulinsart 2020
After having travelled through the land of the Soviets and the Congo, Tintin sets off again for a third long journey, this time across the Atlantic. The famous reporter discovers America: Chicago, the suburbs, the Wild West and the Indians, and the over-industrialisation.
By thwarting Al Capone's plans in Africa, Tintin had won the first round. But on his own turf, the gangster is determined to get rid of his opponent for good.
In 1931, Hergé's deeply respectful vision of the Indians, these proud but exploited people, was in many ways ahead of its time.
Cancellation and more... In view of the current situation, we are no longer able to hold the In America with Tintin exhibition at the Hergé Museum on Sunday 1st November 2020. Instead, we will soon offer you a preview of the temporary exhibition via a video which can be found on our website and on our socials. We would also like to present two new works that link to the theme of America: the book Tintin in America in colour and Hergé, Tintin and the Americans by Philippe Goddin. What's more, we are offering 750 numbered copies to be sold of Tintin in America in colour. Given the complicated circumstances, it will not be possible to choose a specific copy number. These works will be available from Saturday 31st October at the Boutique Tintin in Brussels, situated on rue de la Colline, next to the Grand Place (opening times 10:00 until 18:00). They will be available thereafter on our online boutique Come and visit the Boutique Tintin, in respect of safety regulations. Stay safe! Attention: Subject to the new measures that will be taken by the Concertation Committee on Friday 30 October concerning whether or not to maintain activity for "non-essential" businesses.