Albert Uderzo has died aged 92. He has joined his friend René Goscinny. Together they created the character of Asterix the Gaul for Pilote magazine in 1959. Equally at ease in both the realistic and humorous register, the cartoonist boosted the way for the comic strip with several milestones.
Goscinny and Uderzo met in 1951. There was instant mutual admiration. They quickly found their mode of operation. With René writing the script, Albert drew
Jehan Pistolet a prodigious privateer
, then
Luc Junior
, a young reporter accompanied by a dog (well, well!) and a photographer. Then there was the revival of
Benjamin and Benjamin
before Goscinny brought his friend to
Tintin
magazine. It was in this weekly magazine for young people aged from 7 to 77 that they devised
The adventures of Oumpah-Pah the Redskin
.
All of Goscinny's humour and Uderzo's graphic mastery are present in Oumpah-Pah. Yet it is not this series which would capture the hearts of its readers. Asterix the Gaul, created for the first issue of the magazine Pilote, would become the paper's flagship series within a few months. This success continued unabated. Today with 38 titles, the series has sold more than 370 million books worldwide.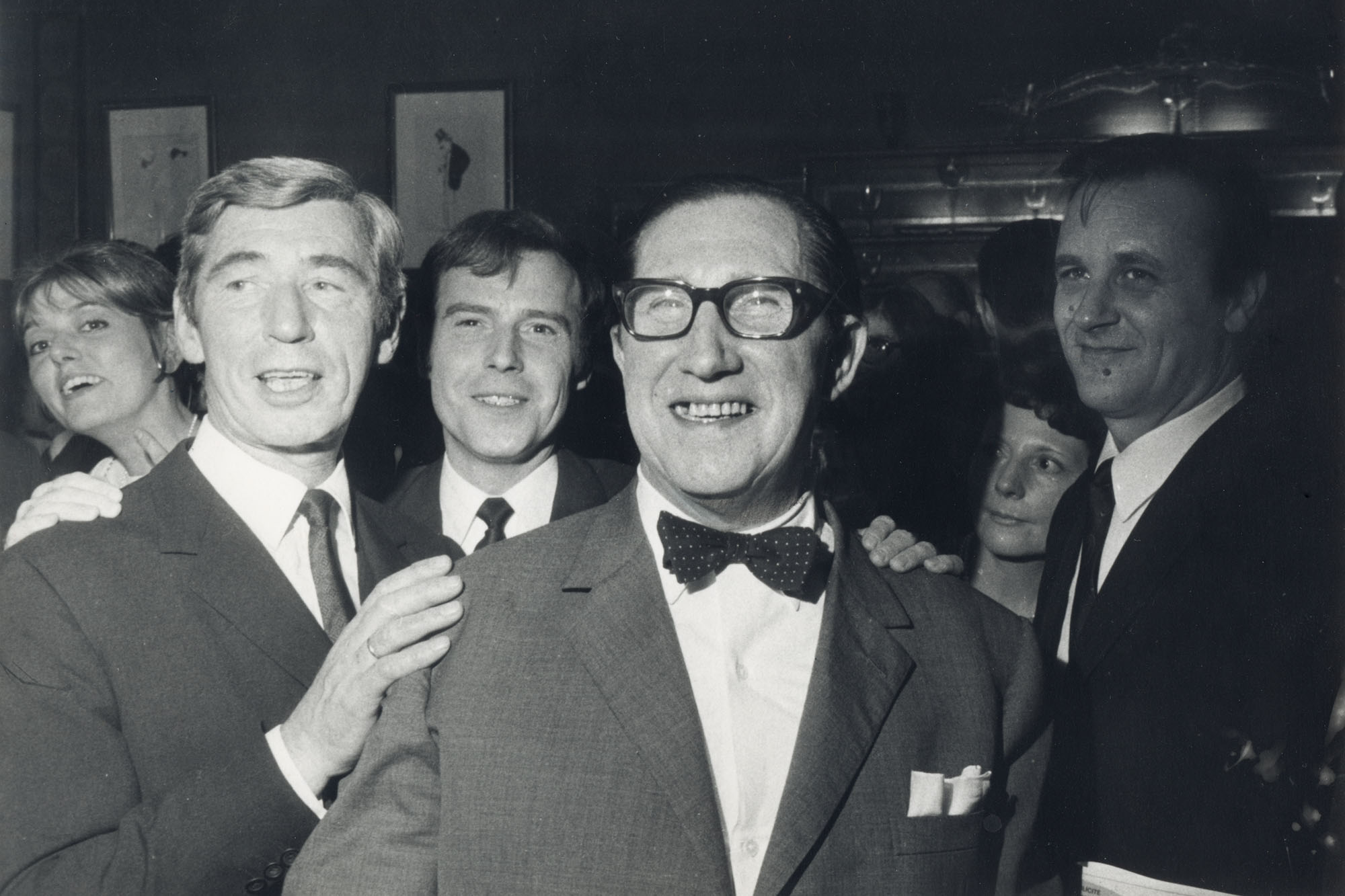 Hergé, Tibet, Jacobs and Uderzo in 1968. Dargaud s.a.
In September 1966, the very serious French weekly L'Express devoted its front page to the "Asterix Phenomenon". Reading that "in the wake of Asterix, Tintin bites the dust" and that, according to the journalist, "Asterix has had the same success as Tintin" (*). Hergé, was stung into action, and went back to work on Flight 714 to Sydney. Nevertheless, Hergé never considered Asterix as a competitor. He admired the work of the two French authors. He knew how to pay them a discreet tribute in Tintin's last completed adventure.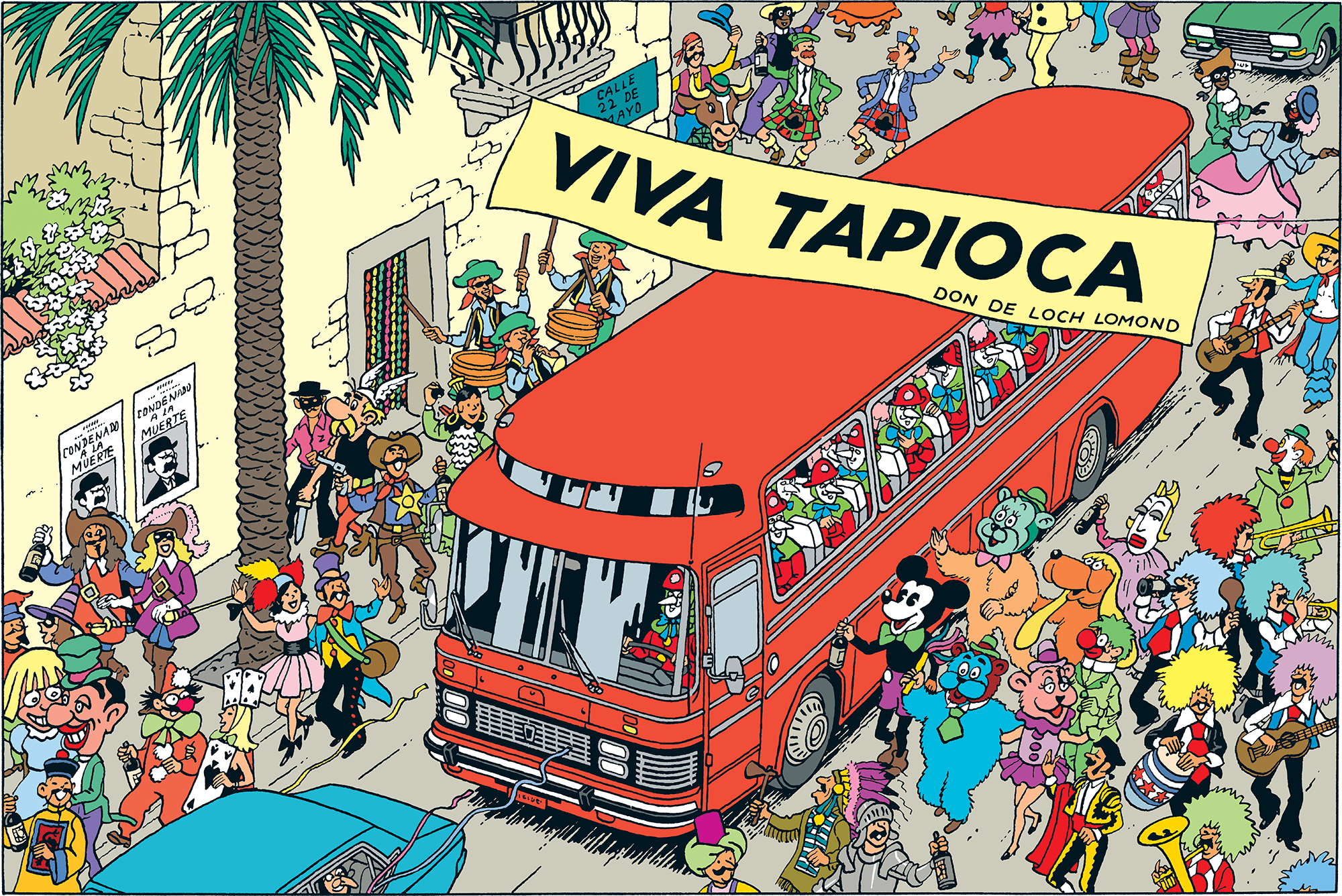 In this scene from the Tapiocapolis carnival, Hergé acknowledged the heroes of Goscinny and Uderzo. © Hergé - Moulinsart 2020.
We met Albert Uderzo and his wife Ada at the inauguration of the Asterix mural fresco in Brussels on 23 September 2005. The complicity of both spouses was apparent at every moment. Here are a few memories of those good times.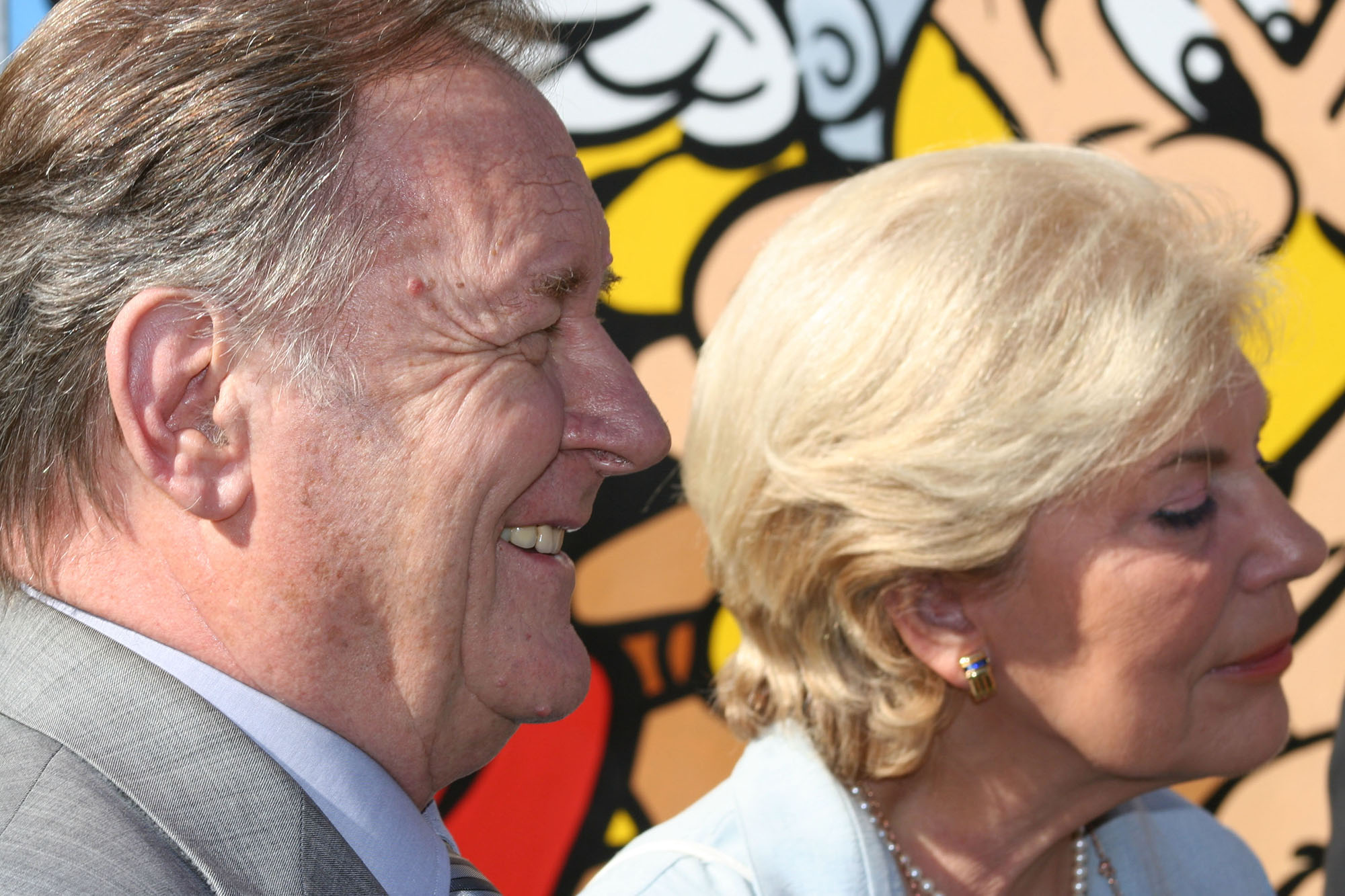 Albert and Ada Uderzo. © Philippe Fontaine 2005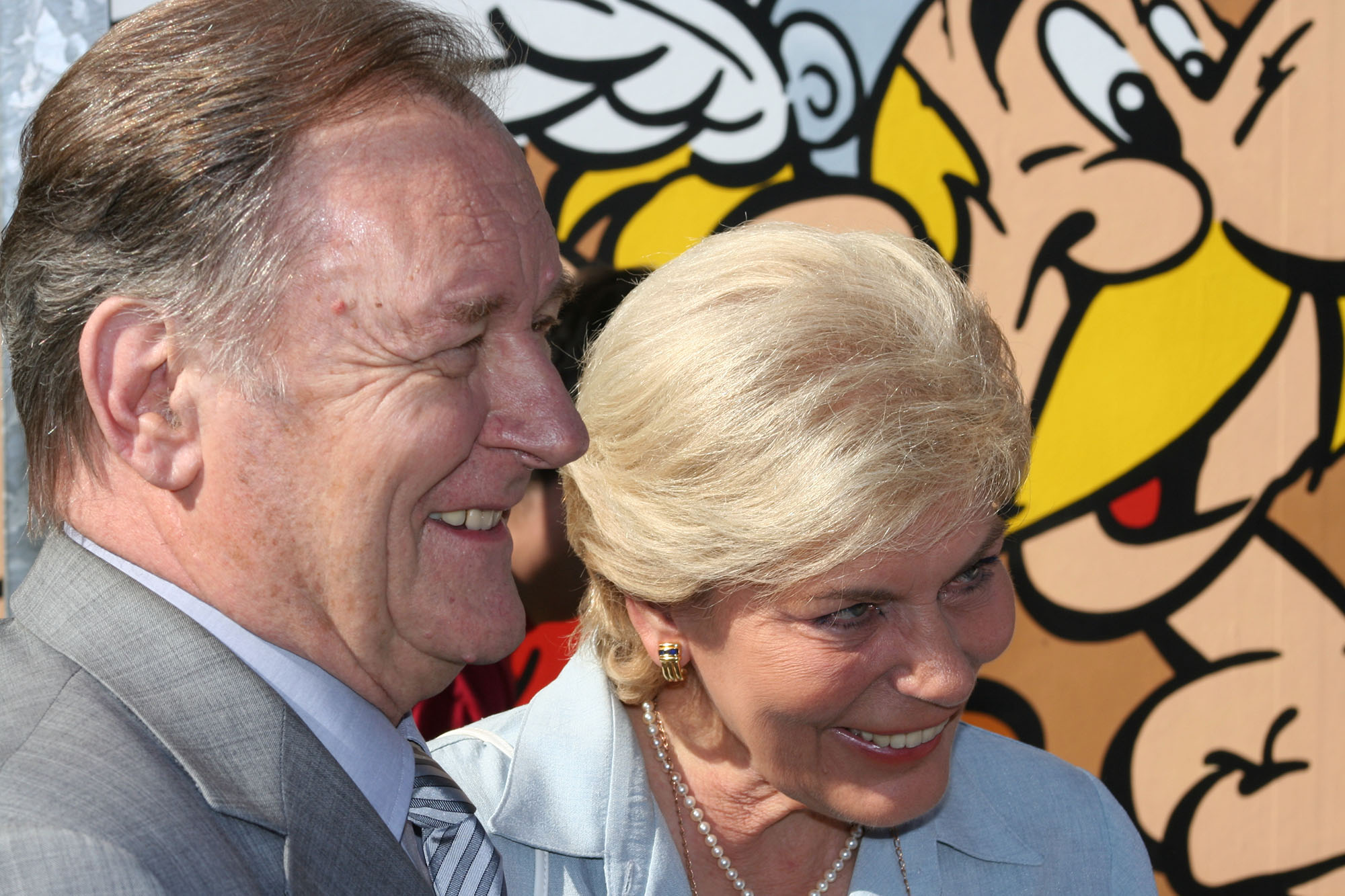 Albert and Ada Uderzo. © Philippe Fontaine 2005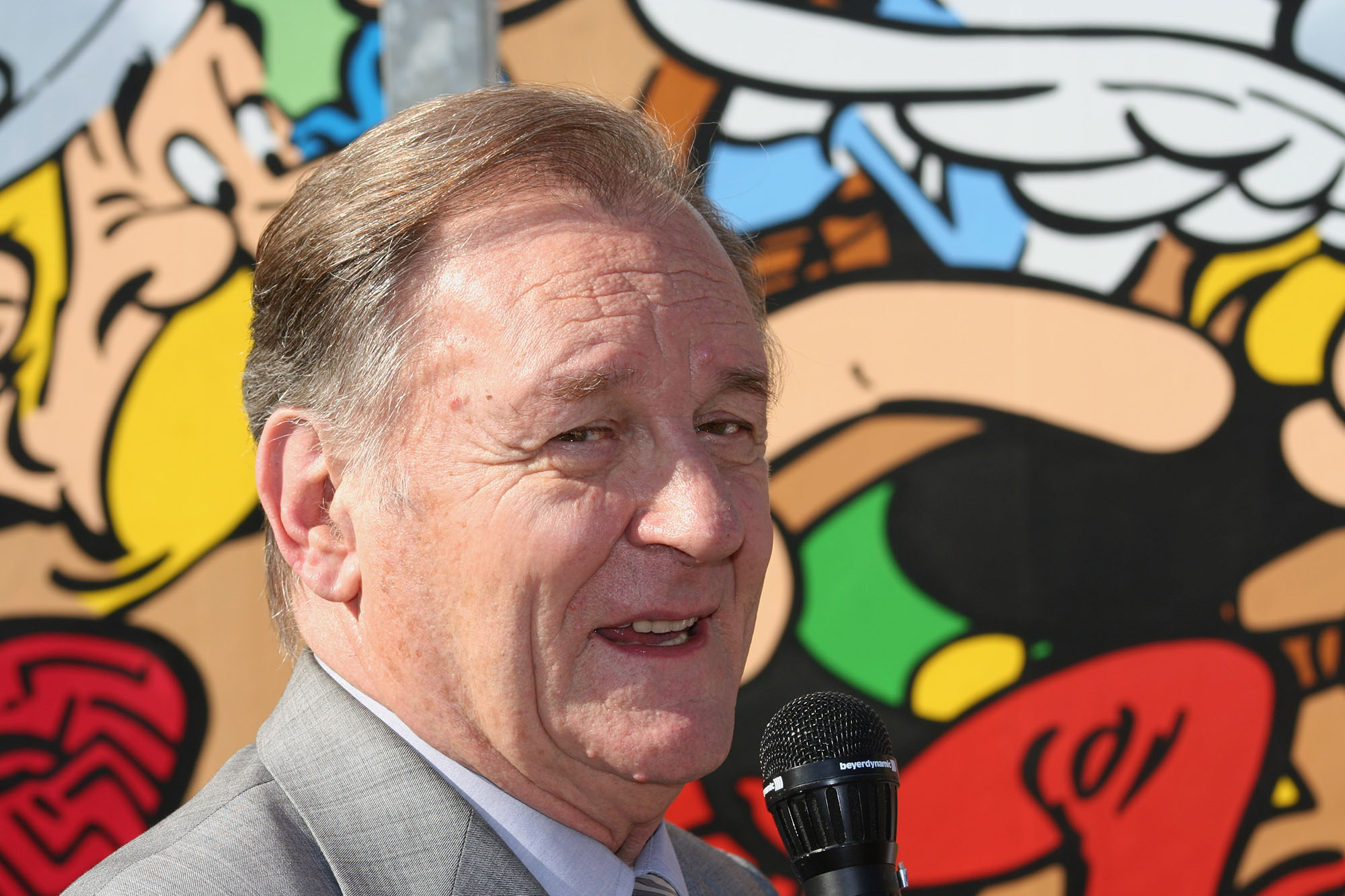 Albert Uderzo. © Philippe Fontaine 2005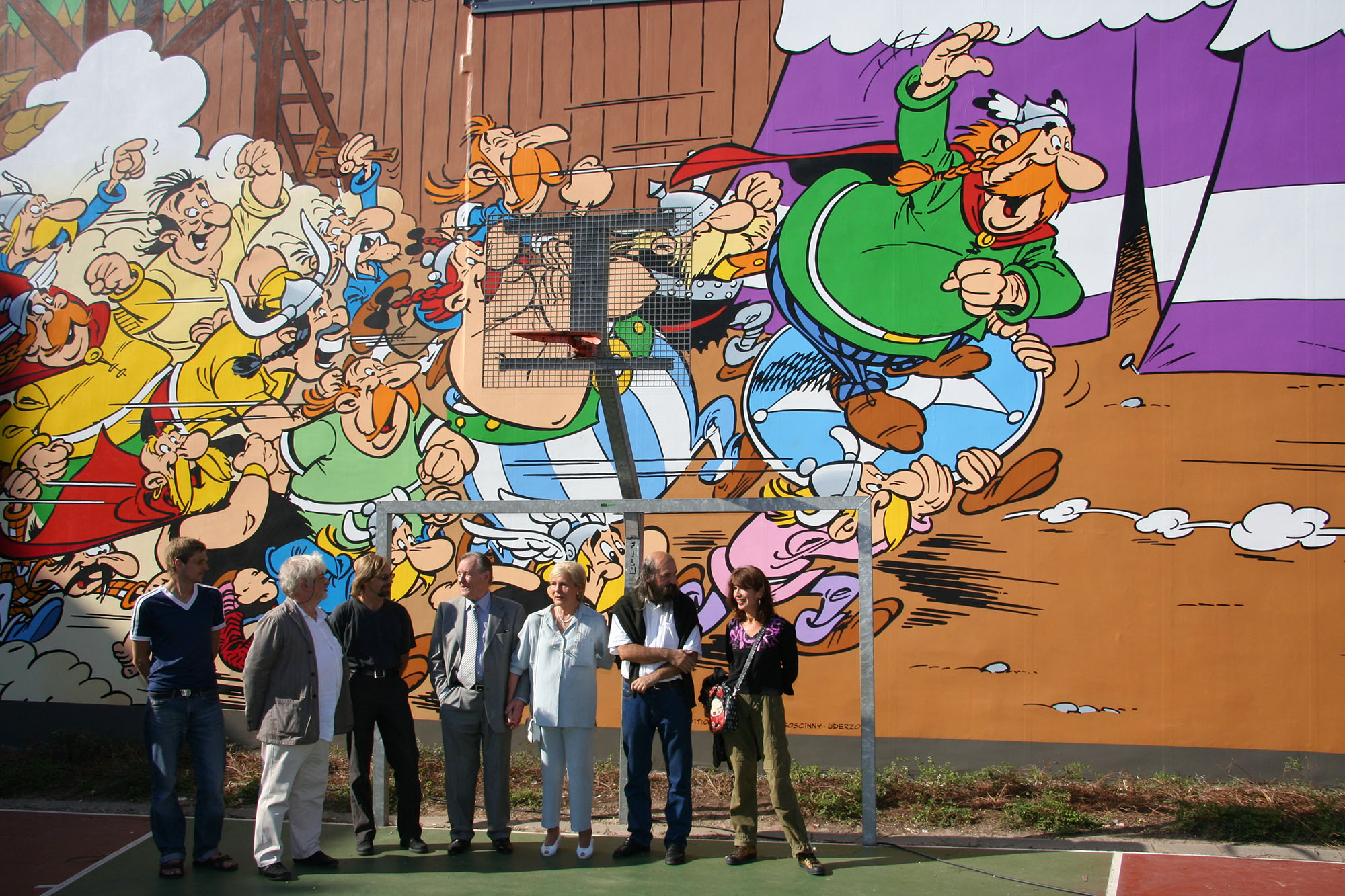 Albert and Ada Uderzo surrounded by the artists of "Art Mural". © Philippe Fontaine 2005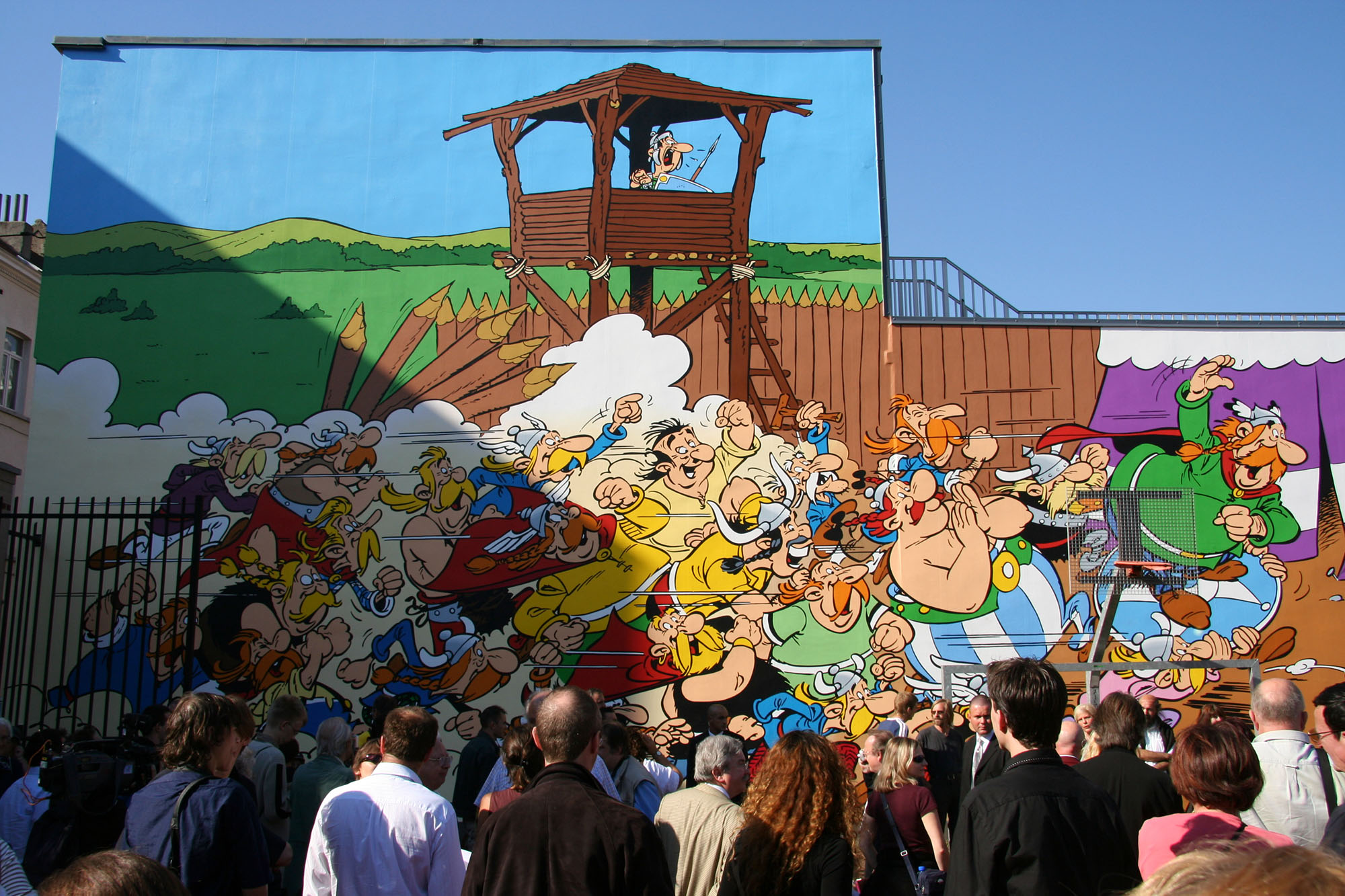 The "Asterix" fresco in Brussels. © Philippe Fontaine 2005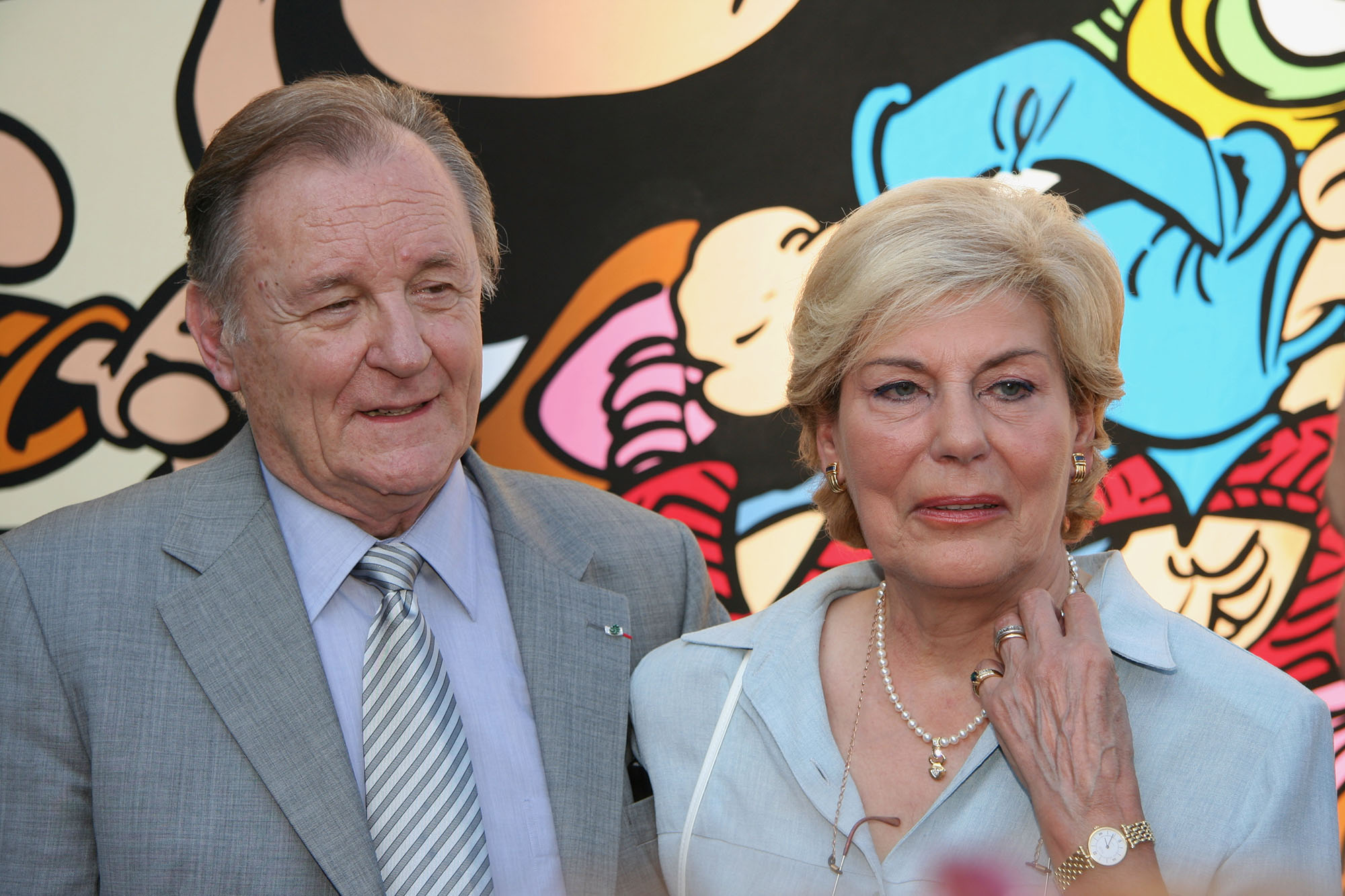 Albert en Ada Uderzo. © Philippe Fontaine 2005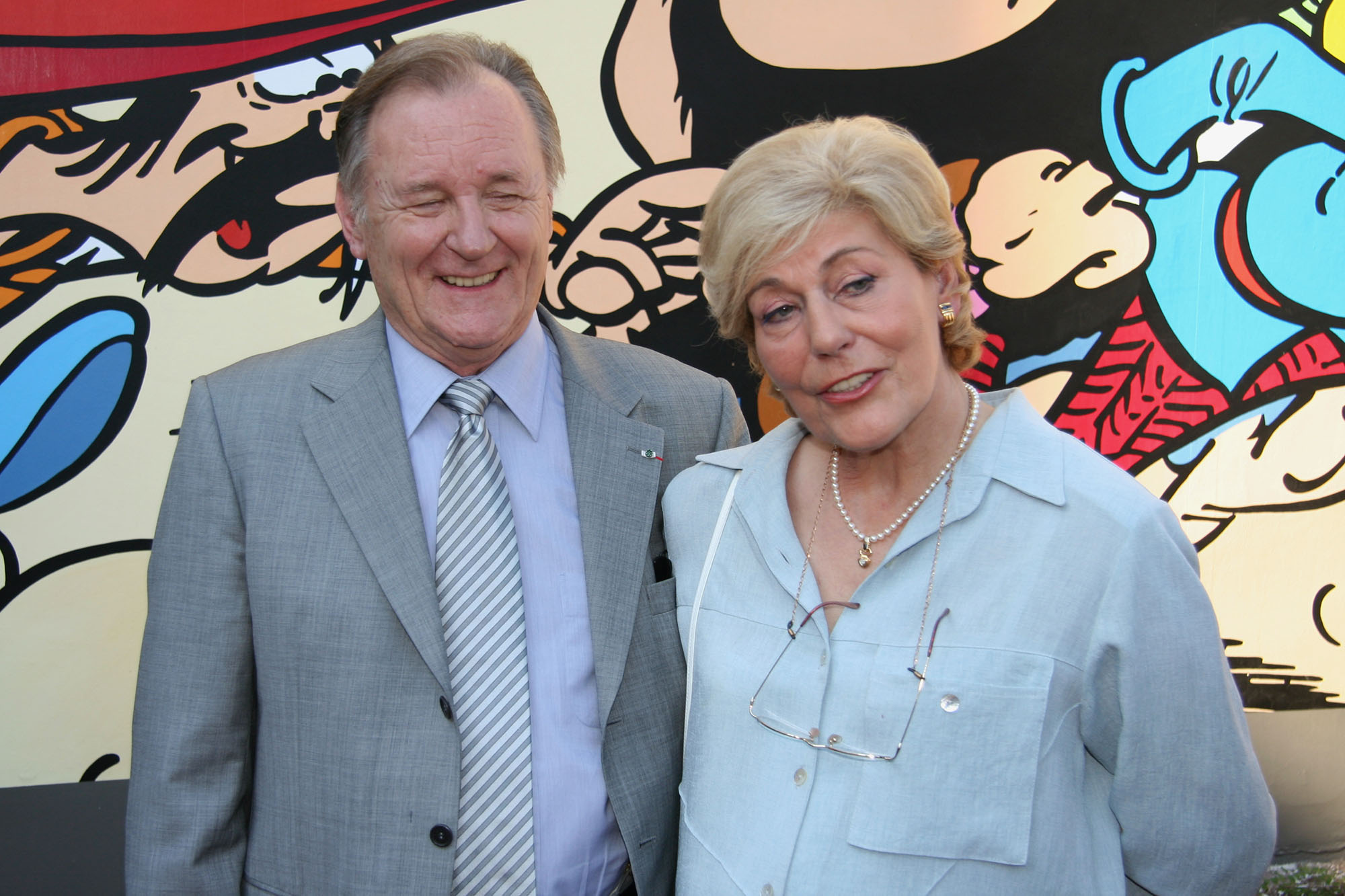 Albert en Ada Uderzo. © Philippe Fontaine 2005
(*) Quoted by Pierre Assouline in Hergé, Gallimard, "Folio" coll. 1998, p. 595
Uderzo, modest hero, has gone, by Didier Platteau Albert Uderzo died on March 24, at the age of 92. A loyal partner of René Goscinny. One might wonder who were the real heroes, Asterix and Obelix or this duo of genius writers and artists? Inseparable, they had to swallow famous doses of magic potions to reach such heights of joyful and inexhaustible creativity! Tintin had paved the way for the expansion of the comic strip as early as 1929, Asterix rushed into it in 1959 to amplify it and, together, they became the emblematic figures of a fabulous "Franco-Belgian" school to which André Franquin's work is also associated. The small village of Moulinsart in Belgian Walloon Brabant and the small Gallic village in Armorique have thus become the symbolic epicentres of an international influence. Rival heroes but accomplices in success, the worlds of Tintin and Asterix do not lack a certain symmetry thanks to the thunderous Haddock and Obelix and the faithful Snowy and Dogmatix. Albert Uderzo talked more about his work than about himself. He was a modest giant, meticulous at his drawing board. The entire comic book community pays him a grateful tribute today.
"For me, Tintin is above all an older brother who, through his fame and the great talent of his creator Hergé, knew how to open the doors of the incomprehension that reigned among some people. Thanks to him, this means of expression in which and for which we live, has received its letters of nobility from a wider public as it is said: from 7 to 77 years old. Bravo and thank you, Mr. Tintin."
Remarks collected on the occasion of the project My Own Tintin, directed by the Ecole Communale du Karrenberg in 2004.