Love isn't a recurring theme in The Adventures of Tintin. Living the adventure forces Tintin to focus his efforts on his mission and nothing will make him deviate from his route. Additionally, he only allows himself rare moments of confidence or relaxation such as yoga, walks in the mountains, and evening cocktails. One will remember the beautiful night scene in The Castafiore Emerald where the hero is overwhelmed by melancholy whilst listening to a gypsy playing a tune on his guitar. There's a full Moon, it's warm and one can imagine the pleasant scents coming up from the sleeping earth. We emphasise once again, it's rather the exception of letting go which confirms the rule of general restraint.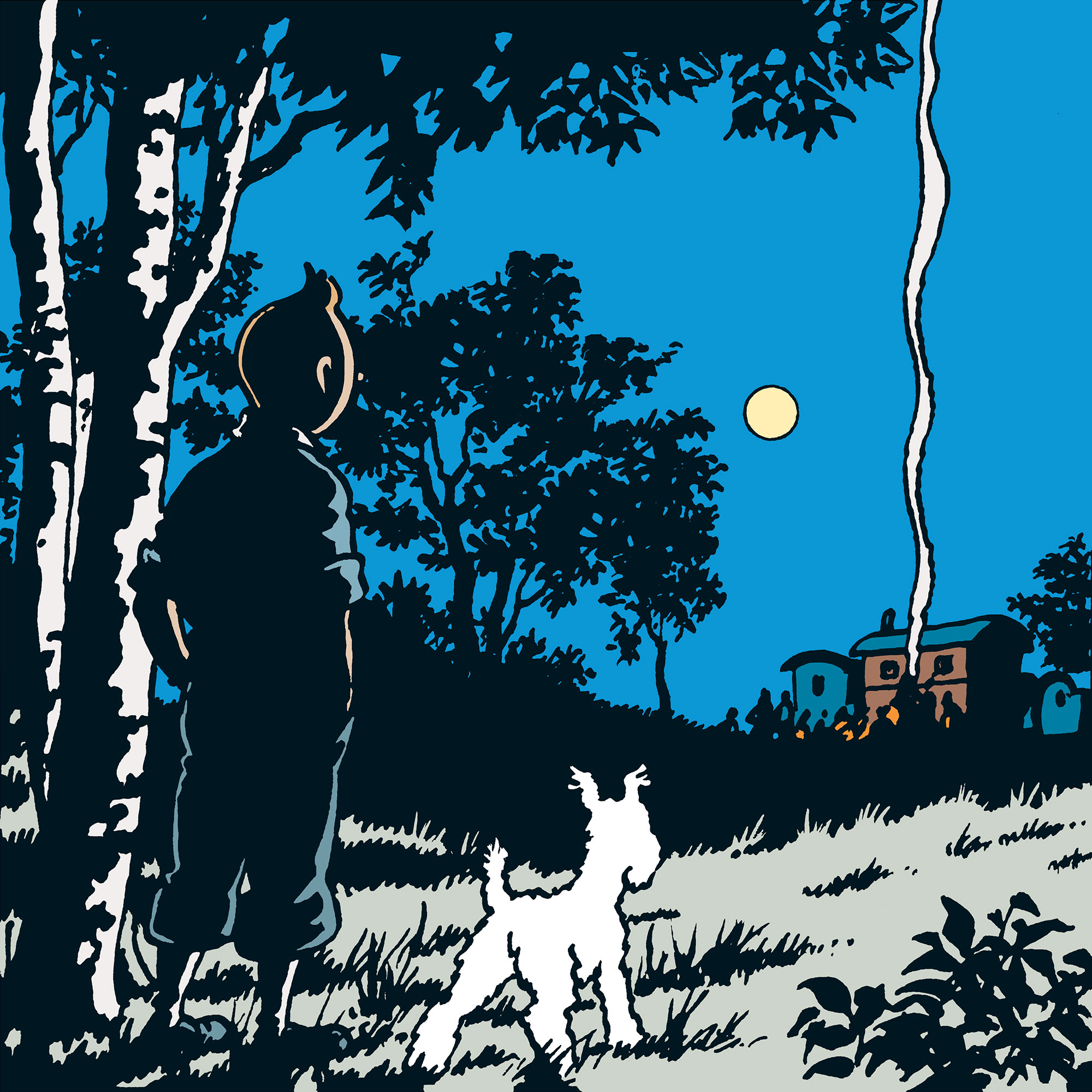 © Hergé-Moulinsart 2020
Hergé wanted it this way, no exaltation of feeling. Tintin doesn't explore passionate dimensions and confides very little. In fact, he embodies the more than perfect hero who shows almost no emotion. His creator prevents him having a love affair because of the editorial codes at the time, and a certain virtue, which he imposes on his anarrative. The cartoonist insisted a lot on the perfect freedom of his star character. What could he have done with a young man who falls madly in love, is lovesick, who suddenly finds himself wanting to settle down at Marlinspike Hall or elsewhere, in the soft warmth of the family cocoon? No more crazy departures, no more flying starts and no more packing suitcases in the blink of an eye.
For Hergé, the notion of friendship far outweighs that of love, a love that certainly implies a physical attraction.
In the end, a good-natured world, very "clear line", without violence, without sex, without a carnal relationship. Only fraternity and humour should appear and dominate. And of course, freedom!
Tintin gradually takes root in his autonomy. neither family, nor support, even if his creator does reward him, in the course of the adventures, with an entourage that is similar to that of the ties of blood and heart. This kind of community, whose members are closely linked within them, will allow him to develop affinities and build friendly relationships that give his adventures a rather unique human dimension.
In the end, the verb "to love" dominates the boxes and bubbles, because in friendship as in love, we enjoy being together, we help each other, we laugh heartily and the simple presence of others, comforts and enchants. Even if Captain Haddock only wants one thing: to escape from Bianca Castafiore.
However, the birth of a true love affair in The Castafiore Emerald, should be noted. It involves Professor Calculus, who fell in love with the famous singer. An emotional and spontaneous impulse which encourages him to create a new variety of white rose aptly named, "Bianca".

Strip extracted from plate 56 of The Castafiore Emerald - © Hergé - Moulinsart 2020
Let's not deny our pleasure, if the romantic flower par excellence is the red rose, why not try, like Cuthbert Calculus, other gift experiences: a rose as white as a dove, dinner at Marlinspike Hall, canoeing on ponds, parachute jumping,... and why not, a little Tintinesque surprise?