Deshydrogenase! Glioblastoma! Disulfiram! Aldehyde!... So many anathemas Captain Haddock could have mentioned after drinking alcohol which tasted awful due to the effect of Professor Calculus's tablets!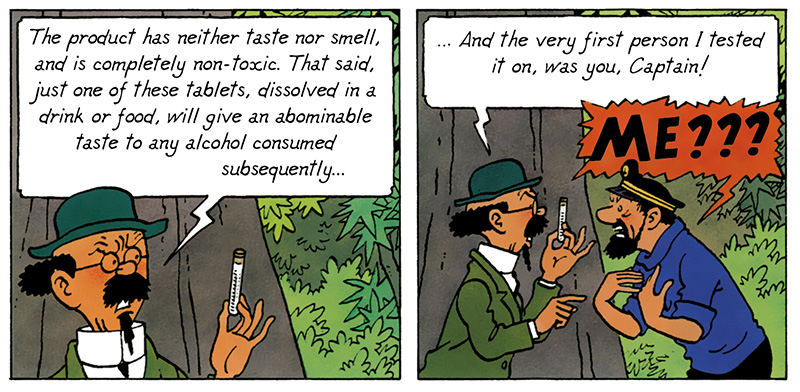 © Hergé-Moulinsart 2019
This weekend the inventiveness of Calculus was once again in the daily newspaper, Le Soir. "The pill of Captain Haddock…the truth". (Le Soir, Saturday 30th and Sunday 31st March 2019).
This pill is a reality and it exists under the name of Antabuse or Antabus which are the drugs derived from the substance, disulfiram, which has the formula C10H20N2S4.
It is a white powder, odourless and with a slightly bitter flavour. Disulfiram is very soluble in alcohol. Poor Haddock! Long live Calculus!
The genius of Calculus has allowed other researchers at UCL, located not far from his laboratory, to discover that this molecule, disulfiram, used to treat alcoholism could also have anti cancerous benefits.
A new breakthrough in the fight against cancer may have been found.
Read the article by Frédéric Soumois: "How an anti-alcohol molecule has become an anti-cancer treatment", Le Soir, March 30th and 31st, 2019.
We already knew that fish was an anti-cancer food. Now the Calculus pill is for real and may not have revealed all its secrets, yet.