Episode 4
Congo, back home!
Tintin and Snowy are raised to the rank of a fetish, this marks the end of the adventure of Tintin in the Congo. One can see them as sacred objects - Tintin and Snowy would now be part of the ethnic group (tribe), clan, family - which testifies to a ritual close to that of ancestor worship.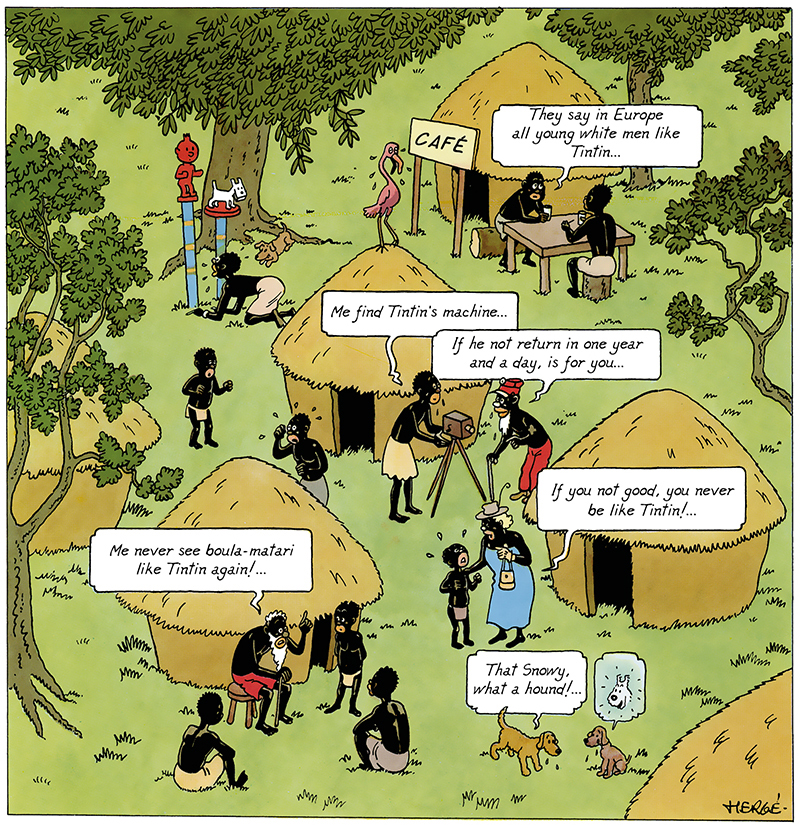 © Hergé/Moulinsart 2018
This "idolisation" could, in the eyes of some, seem excessive but this fiction has become reality on stalls and in many markets in Africa. Tintin is not have liquid polyester poured over him to be "cesarised" as in Tintin and Alph-Art but is represented with humour, by wooden statues whose expressive distortions are characteristic. They are very crude but their interpretation reveals a form of cultural appropriation.
This last page shows in any case that these "sacred" objects have not left the African continent unlike many other works of art. Certainly more precious, venerated and priceless than those that have joined foreign, public or private, collections; they are seen as an integral part of Congo's cultural heritage.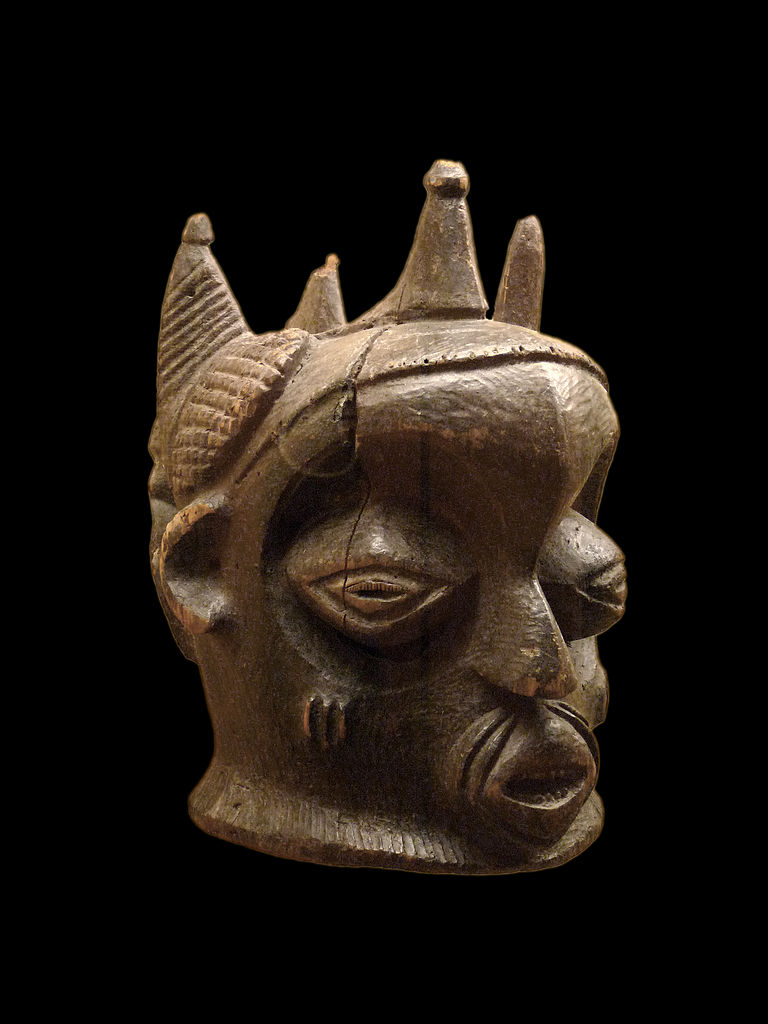 Luluwa helmet-mask. Occidental Kasai, Zaire. Royal Museum of Central Africa. (Picture free of copyright under Creative Commons CC0)
A vast debate that is more than ever the headline of newspapers both at Belgian and international level.
Here are some examples:
Should we restore the sacred objects of Congo to the Congolese? (Le Soir, 26/09/2018)
https://plus.lesoir.be/180529/article/2018-09-26/faut-il-restituer-les-objets-sacres-du-congo-aux-congolais
Should we restore works of art from colonization? (L'Echo, 22/11/2018)
https://www.lecho.be/economie-politique/europe/general/faut-il-restituer-les-oeuvres-d-art-issues-de-la-colonisation/10071974.html
Restitution of ill-gotten cultural property: who owns the art? (Le Monde, 04/01/2018)
https://www.lemonde.fr/afrique/article/2018/01/04/restitution-des-biens-culturels-mal-acquis-a-qui-appartient-l-art_5237626_3212.html
France commissioned a report on the issue and more than 40,000 works of art would be affected by a temporary or permanent return. Belgium is not left out on this issue at the opening of the Museum of Central Africa.
Africa, pillaged, at least 85% to 90% of its artistic heritage. Priority is given to "ill-gotten objects", but restitution procedures could also cover a wider range of items brought back, exchanged or purchased by adventurers, travellers, well-meaning archaeologists or not. If the feasibility of the thing is conceivable for the artefacts of national or federal collections managed by public museums, more complicated would be the forced return of works of private collectors.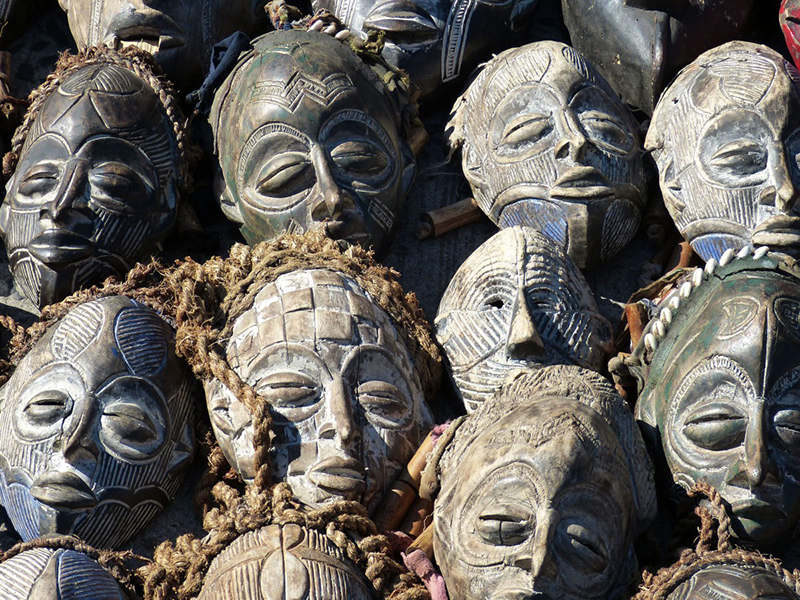 Wooden masks for tourism. South Africa. (Picture free of copyright under Creative Commons CC0)
The restitution would be a strong act for the continuation of a decolonisation of the spirits. Historical consciousness is an everyday learning, especially at a time when the balances of globalisation are fragile. Why not take an example on the African continent basing our actions primarily on social ties rather than focusing on the economy at all costs by exhausting resources!
This restitution would send a clear and immediate signal of radical change. The future will reveal to us what the great sages have planned to do.
"One can only predict the past" (Ernest Labrousse).