Episode 3
Congo, "The Assimil" of the time ...
When reading Tintin in the Congo, we see that the natives are expressing themselves in a "revisited" French language. This is the mark of a certainly caricatured and stereotyped simplification of language - which was called « petit nègre » - a way of speaking French in an "uncomplicated" way.
Let's not forget that language is there to serve the coloniser, and French has never been easier to learn ...
In Senegal, then a French colony, "the army decides to establish "petit negro ", otherwise called "simplified French ". In a teaching manual published in 1916, intended for French officers wishing to communicate better with their infantrymen, we read:
Standard French: La sentinelle doit se placer pour bien voir et se laisser voir.
Tirailleur French: Sentinelle y a besoin chercher bonne place. Ennemi y a pas moyen mirer lui. Lui y a moyen mirer tout secteur pour lui ».
Source : Pierre Ropert, Le français "petit-nègre", une construction de l'armée coloniale française. 21/02/2018.
https://www.franceculture.fr/sciences-du-langage/le-francais-petit-negre-une-construction-de-larmee-coloniale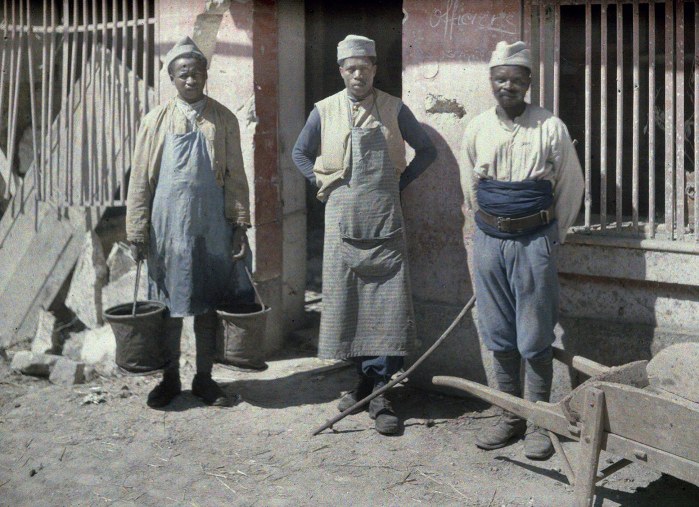 A group of Senegalese Tirailleurs: three men working. Photo Fernand Cuville © Ministère de la Culture / Médiathèque du Patrimoine, Dist. RMN-Grand Palais / Fernand Cuville
The Belgian Congo does not escape this paternalistic, simplifying and merciful logic. Hergé (23 years old at the time) will not yet take into account the turn of a simple but correct French that the French army will later impose on its vis-à-vis the native troops, henceforth forbidden to speak sabir!
Therefore "the language that Hergé gives them: they express themselves in approximate and imperfect French. The young boy who helps Tintin, Coco (…), is talking about "tomobile" instead of "automobile" and the expressions "Toi y en a", "Ça y en a", "Missié", "Li" instead of "il" go through the book.".
Source : Eudes Girard, Une relecture de Tintin au Congo.
https://www.cairn.info/revue-etudes-2012-7-page-75.htm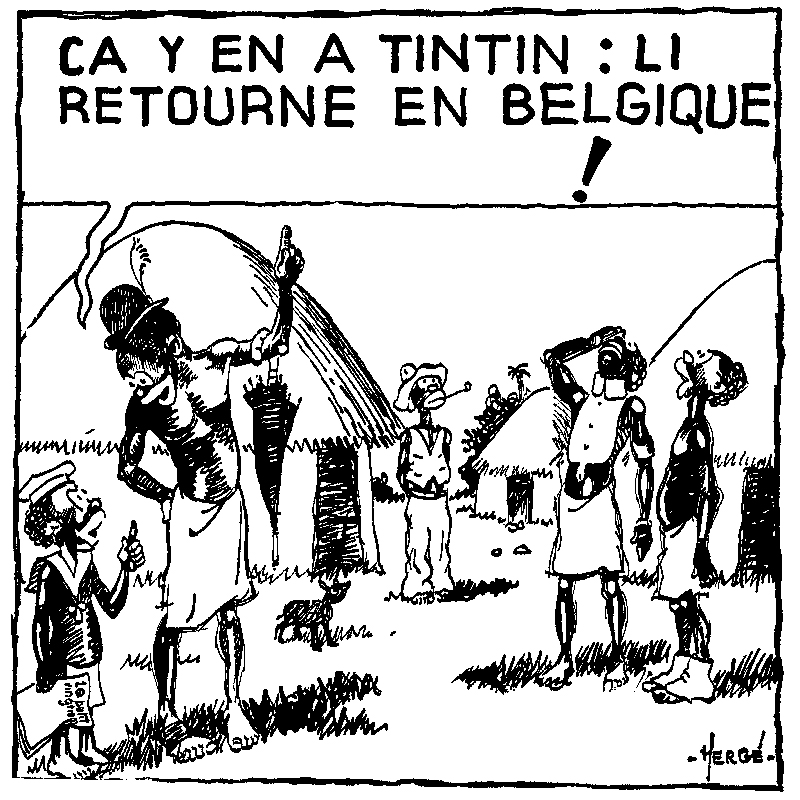 Illustration for the cover of Le Petit Vingtième of June 11, 1931
The French spoken by the Congolese in this second adventure of Tintin is not a construction coming from any hergeen invention, but a pictorial phraseology, peculiar to this colonial period which was not far removed from the "mythe du bon sauvage".
Even in 1939 in her song Le Voyage du pauvre nègre, Edith Piaf uses "to make it speak petit-nègre"!
REFRAIN Oh yo Oh yo Monsieur Bon Dieu, c'est pas gentil, Moi pas vouloir quitter pays Moi voulu voir le grand bateau Qui crach' du feu et march' sur l'eau. Et sur le pont moi j'ai dormi, Alors bateau il est parti, Et capitaine a dit comm' ça : "Nègreau charbon il travaill'ra !" Monsieur Bon Dieu, c'est pas gentil, Moi pas vouloir quitté pays. Oh yo Oh yo Oh yo Oh yo Oh yo.
Language and dialogue have been given to us to understand and to understand each other. New words are inevitable to represent the feelings, sensibilities and opinions of the present time. These linguistic evolutions are not easy. The languages of young people and teens - 21st century version - show, for example, a delicate balancing act ...
Babtou : homme blanc, européen. Verlan de toubab, lui-même issu du mot tubaab en wolof, la langue la plus parlée au Sénégal.
Bédave : fumer (mais pas une cigarette, si vous voyez ce que je veux dire). Exemple : " T'as rien à bédave, gros ? "
Carotte : voler. Exemple : " J'me suis fait carotte mes dix euros. "
https://www.lecurionaute.fr/langage-jeunes-ados-version-2016/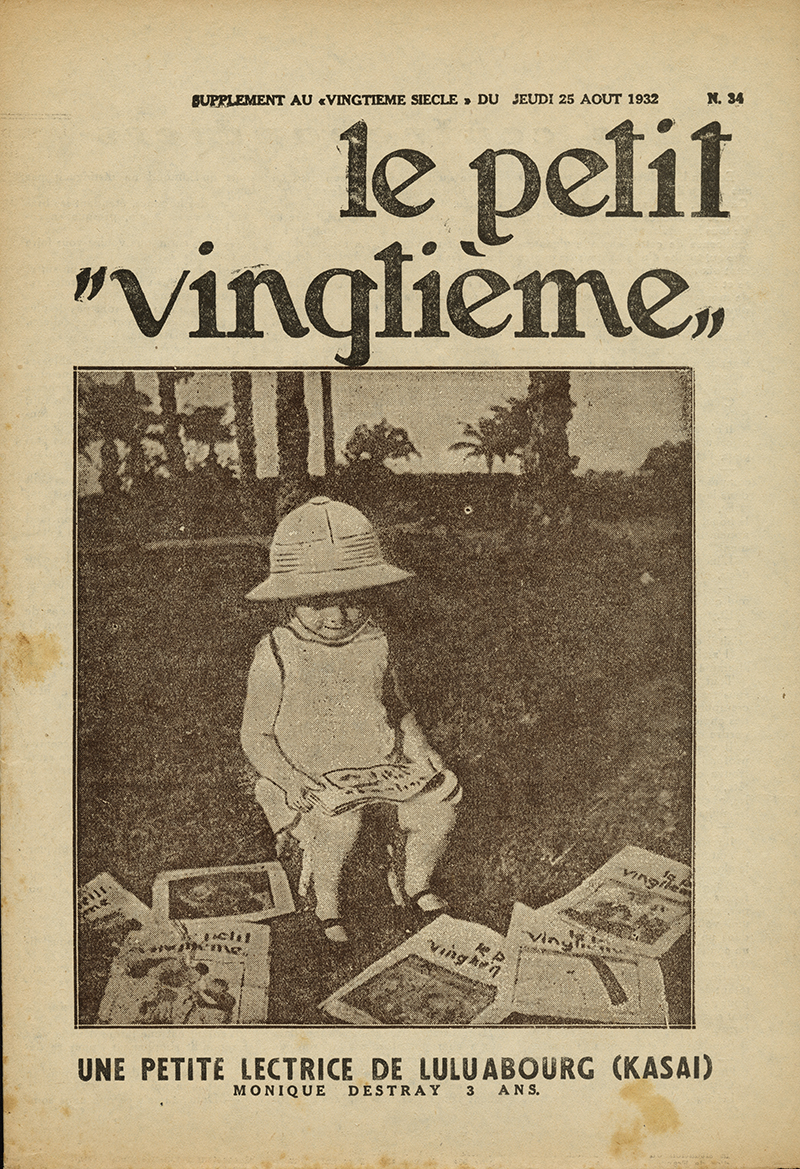 Cover of Le Petit Vingtième of August 25, 1932
This change in words also affects cultural institutions such as museums. The Museum of Central Africa in Tervuren, which is due to re-open at the end of this year, is primarily concerned.
Thus, the newspaper L'Echo published on September 5, 2018 an article: "The decolonization of the Museum of Africa in Tervuren also passes by the terminology".
The revision of language is sometimes pushed to its limit: do not say "tam-tam", but "drum". Similarly, do not say "tribe" anymore, but "ethnic group". Bambi Ceuppens, anthropologist and scientific curator at the Museum of Africa in Tervuren, wrote linguistic recommendations for the staff and collaborators of the new museum ... ".
Source : https://www.lecho.be/actualite/archive/la-decolonisation-du-musee-d-afrique-a-tervuren-passe-aussi-par-la-terminologie/10046246.html
This concludes our second section of articles about the subject "Congo". We have certainly not exhausted the delicate question of "words", but we hope that by highlighting some, we contribute to explaining their origins somewhat, especially among young people. We have a duty to show constant attention to explain things of the past with their imperfections, their clumsiness and their share of errors, whether voluntary or not... "L'homme est la mesure de toutes choses " (Protagoras).