As Christmas draws near people are looking for warmth and a cosy fire as they come in from the snow; everyone is also looking forward to spending Christmas with the family.
It is a time of wonder and familiar traditions, against the backdrop of Christmas trees, candles and presents.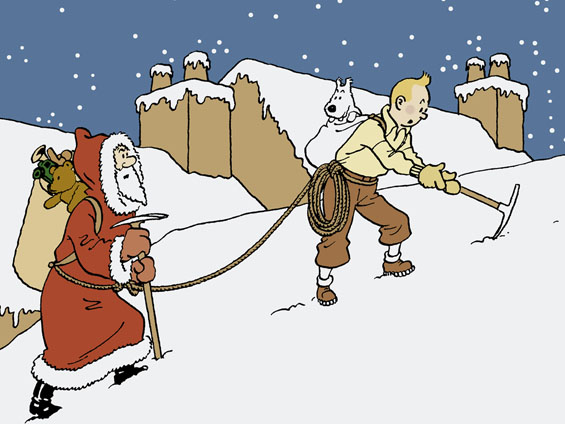 The Calculus Affair (1956)
Although the family gatherings are usually fun and nostalgic times, occasionally there are arguments or people might say something they later regret. In these situations one should show the same tact as Tintin dealing with an irascible Captain Haddock, a hard-of-hearing Professor Calculus, a Bianca Castafiore full of vanity or a pair of clownish Thom(p)sons.
Love them as we do, these characters have the capacity to transform a peaceful evening into chaos!
To remind us of Tintin's fantastic family, we have the pleasure of presenting here a gallery of Tintin busts – the perfect stocking fillers.
Complete collection of Tintin family busts available online at the Boutique Tintin Complete collection of Tintin family bust-keyrings available online at the Boutique Tintin
HAVE A HAPPY CHRISTMAS WITH YOUR FAMILIES AND A FANTASIC NEW YEAR 2018 FULL OF JOY AND HAPPINESS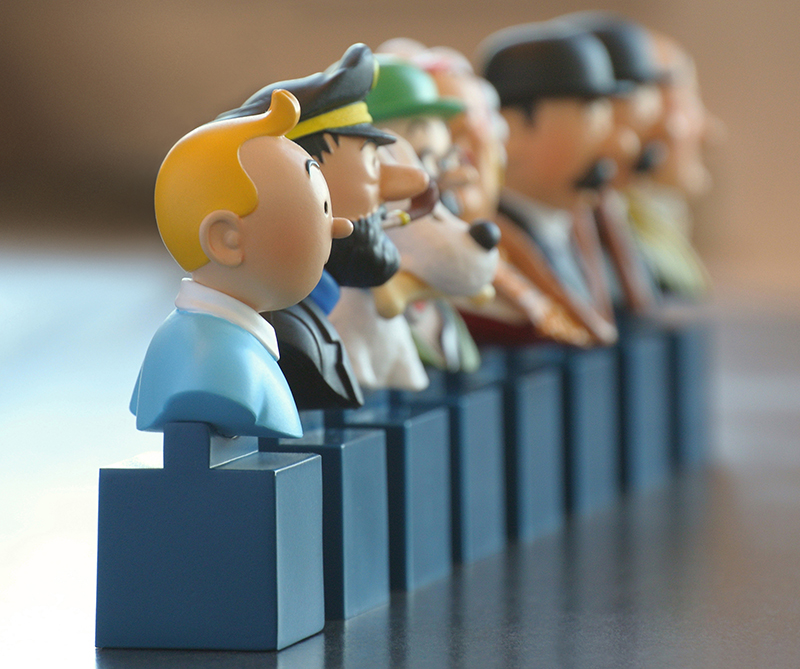 The fundamental concept is based on the fact that fans like to have pictures of their favourite characters. Also, we wanted to create a range of statuettes that break away from the traditional series of figurines.
In 1965 Hergé created a portfolio of 8 character portraits for his principal characters, framed as head-and-shoulders pictures. The idea to transform these illustrations into busts came naturally.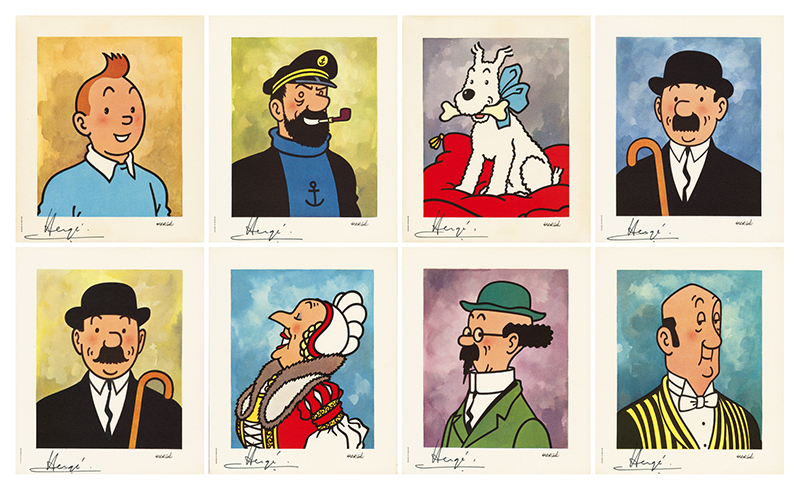 Looking at these portraits we remark the different aesthetic choices that Hergé made to make the pictures stand out from his album illustrations and to make them look like genuine portraits. The lines are different – thicker and smoother – and the border gives a portrait-feel. Watercolour backgrounds are reminiscent of the canvas used in painters' workshops or photo-studio backgrounds, the artist's signature is present and his characters are striking poses. It is as if the painter or photographer has asked the subjects to turn slightly away to get a particular dynamic for his work. Only the Thom(p)sons appear not to have understood the instructions; the Castafiore seems simply to have chosen her stance to show her best profile. As with all good portraits the character of the subjects is pronounced: Tintin has his open smile; rough and ready Haddock his pipe in his mouth; Snowy is proud to show his best bone; Calculus is a bit distracted; Thomson and Thompson are just like each other; Bianca Castafiore immaculately dressed; and Nestor has the discreet smile of a good butler.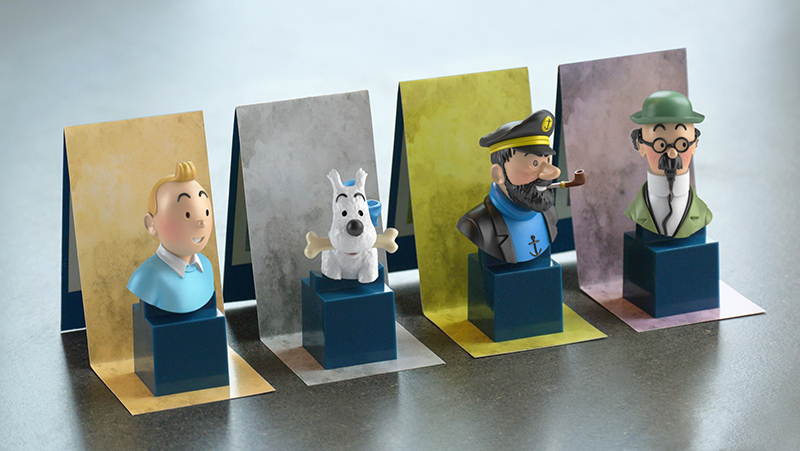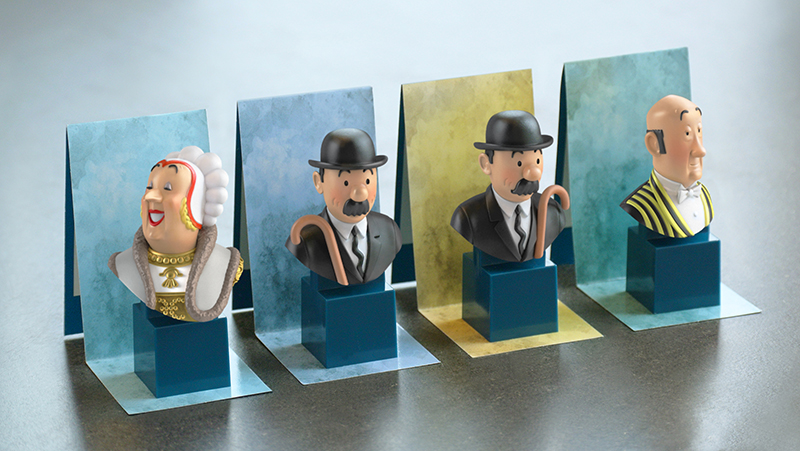 All these nuances were carried over into the 3D versions of the characters.
We chose to show the top parts of the characters, stopping at the chest. This is the classic bust format, passed down from the Ancient Greeks. Hergé also drew this style in his books, notably in the unpublished Picaros scene where Colonel Sponsz breaks the moustache on a bust of Kurvi-Tash.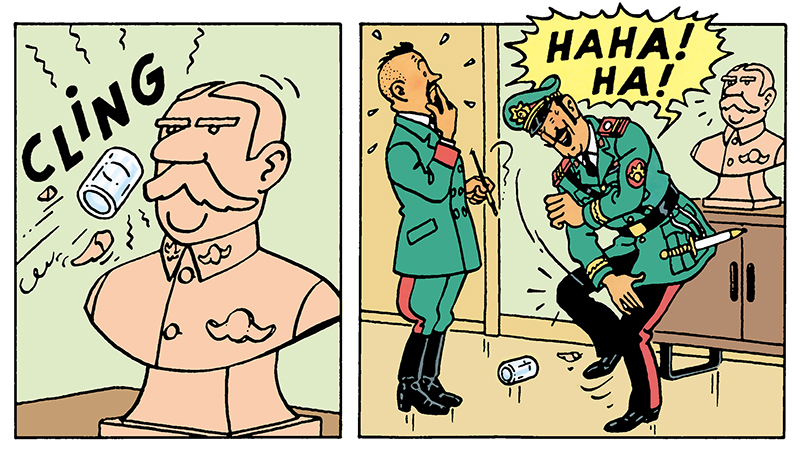 The bases for the bust are all the same for the sake of harmony and visual unity.
Each bust is presented with its own background in a small transparent box.
In the portraits that Hergé drew the characters are standing slightly turned to one side, with their eyes looking to the artist but viewed from a slight angle. That works well for paintings and photographs but in 3D we had to take all possible viewing angles into account; placing the eyes slightly off-centre does not work well in 3 dimensions and so we had to cheat a little and make the eyes symmetrical, as it is not possible always to translate 2 dimensions literally into 3.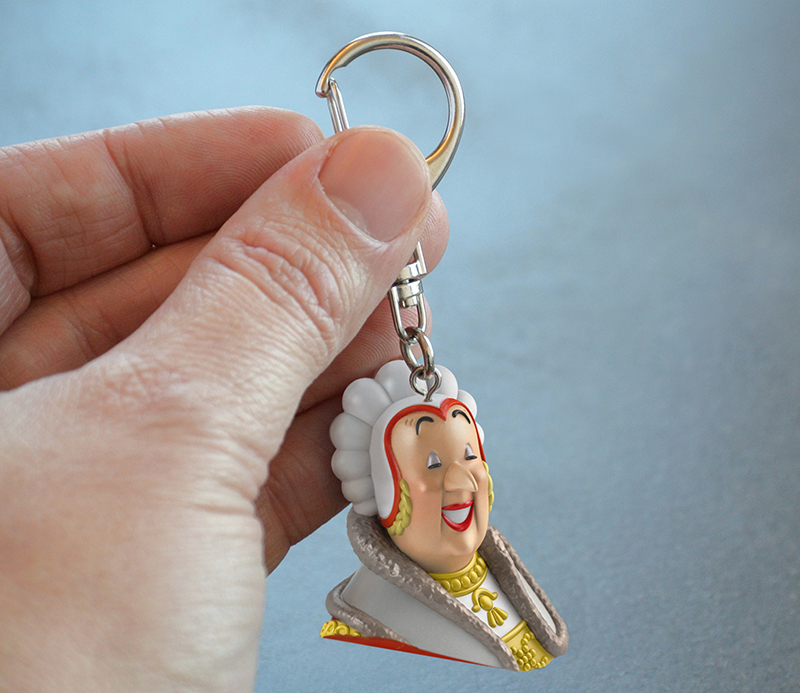 On the other hand depending on the context in which the eyes are set – specific details such as the character wearing glasses – the position of the pupils remains natural from all angles and so we can allow ourselves to give the characters a sideways look.
On ne pouvait pas dépasser une certaine taille car on voulait qu'un enfant puisse les manipuler. Nous souhaitions également les décliner en porte-clés. C'est d'ailleurs pour ces raisons qu'ils sont produits dans une matière plastique souple, pour éviter la casse.
Regarding the size of the busts, we did not want to make them larger than a certain size as we wanted them to be child-friendly. We also wanted to have a series with keyrings, which is why they are made in a particular type of soft plastic, to avoid breakage.
Complete collection of Tintin family busts available online at the Boutique Tintin Complete collection of Tintin family bust-keyrings available online at the Boutique Tintin