This year a team from the Royal Museum of Art and History at the Cinquantenaire Park in Brussels is focussing on the Museum's collection of Pre-Columbian mummies. One of the mummies is of particular interest to Tintin fans, as it inspired Hergé as he created "He-who-unleashes-the-fire-of-heaven", Rascar Capac.
For 175 years, eight partial and complete South American mummies have been waiting for their histories to be explored. Today the project is underway, led by curator of the Royal Museum Doctor Serge Lemaitre, and researcher and archaeologist Caroline Tilleux. The team also includes anthropologist Doctor Caroline Polet, head of medical imaging at Saint-Luc university clinic – Doctor Emmanuel Coche, radiologist Etienne Danse and medical imaging nurse at Saint-Luc university clinic – Jean-Philippe Hastir. With the help of the multi-disciplinary team, Doctor Lemaitre and Caroline Tilleux are creating scans and using scientific methods to date the mummies, also taking hair samples and studying the objects found with the mummies.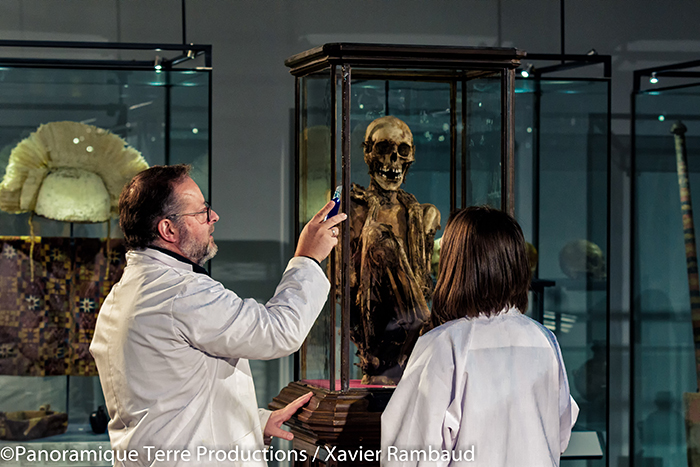 Recently the researchers fearlessly submitted "He-who-unleashes-the-fire-of-heaven" for a CT scan. This method of medical imaging depends on the absorption of X-rays by material and tissue to create 2D and 3D images of anatomical structures. Experts explain: "Non-invasive CT scans are the most suitable way to get a good visual model of each individual. They allow for in-depth examinations of the mummified remains without damaging them in any way, something that is even more useful when remains are wrapped in funerary garments. The images we create will help our studies and also be available to the public. 3D visualisation shows what exists under the surface, and helps us to choose the right places to take samples for chemical examination."
From looking at what they ate to the possible ingestion of psychotropic drugs, while also studying their state of health and causes of death, everything will be done to help complete these mummies' stories. Readers of Tintin.com will be able to learn about the real-life Rascar Capac!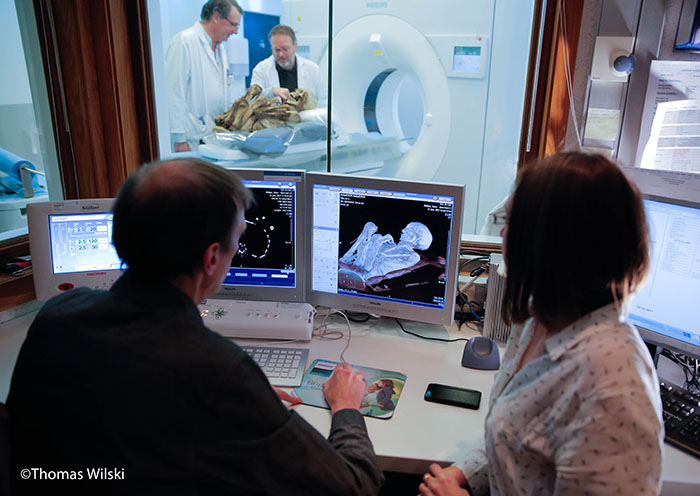 This project will also be an opportunity to reflect on ethics and deontology with questions such as "How should we make use of the human remains in our Museum collections?", "How do the public see these remains?" and "What are the scientific and moral choices to make when putting these remains on display?"
This is an important moment for the Royal Museum of Art and History (only french). The Pre-Columbian mummies are at last joining the cultural collections on display in Belgium. We just hope that Rascar Capac does not decide to come out of retirement to throw more crystal balls at unsuspecting victims!