To mark the publication of the new Géo magazine special issue dedicated to Tintin and to the populations of the world, Tintin.com has the exclusive right to publish an article from the special issue, which imagines two comic strip adventurers coming together on their travels..
The young Belgian reporter Tintin and the Venetian sailor and adventurer Corto Maltese: two heros from the same era – the twentieth century.
Crossing the oceans and travelling to exotic and far-off lands, the two legendary explorers visit the same countries and meet the same people, but they never meet eachother... until now. Géo has decided to take a unique perspective by crossing the heroes' destinies to see how each one perceives and appreciates the inhabitants of the diverse countries they visit.
Two viewpoints, two analyses, two psychologies and two authors behind the characters who have left a huge impression on generations. The Géo special issue takes readers on a journey of discovery by comparing the work of Hergé with the work of Hugo Pratt. There were similarities and differences between the ways in which the characters and their creators perceived and understood the world, and the ways in which the authors portrayed humankind.
If this new adventure sounds exciting to you then make the journey to a newsagent from 12 April onwards.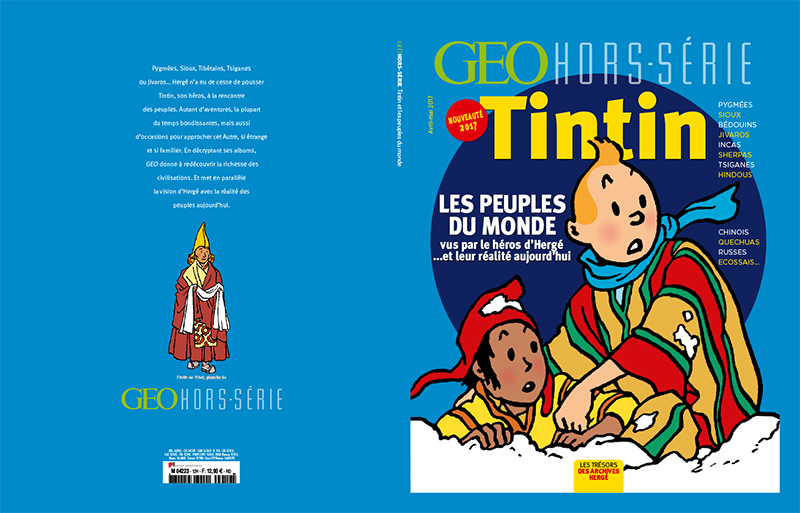 Read the article ( French ) Tintin et Corto Maltese, regards croisés
All informations here:
Price : 12,90 euros
148 pages under hard cover
The release of the book will be for April 12, 2017