LE PETIT VINGT-ET-UNIÈME SIÈCLE
With stories on such diverse subjects as the construction of a new prison off the coast of Dublin and a report from our special envoy in Russia, the Petit Vingt-et-Unième Siècle, like its predecessor, keeps you informed with breaking news from all over the world. The paper has journalists spread from Cuba to China! The main headline of this issue: Tintin's departure for Russia.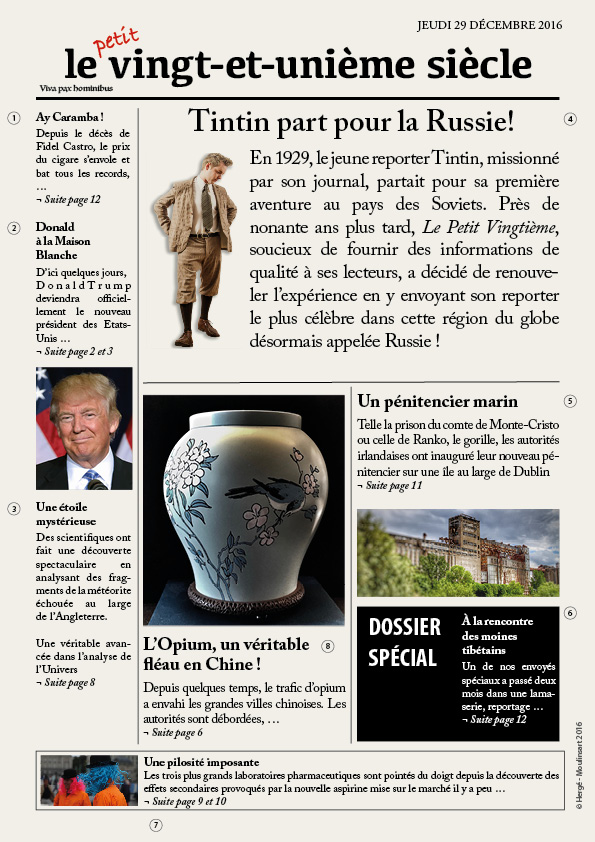 - 1. Ay Caramba! - Since the death of Fidel Castro the price of cigars has shot up, breaking previous records...- (More on page 12)
- 2. Donald Trump at the White House - In a few days Donald Trump will officially become the new president of the United States... - (More on pages 2 & 3)
- 3. A shooting star... - Scientists have made spectacular discoveries by analysing fragments of a meteorite that crashed into Earth off the coast of England. The discoveries represent a major step forward in our understanding of the Universe.- (More on page 8)
- 4. Tintin goes to Russia - In 1929, the young reporter Tintin was commissioned by his newspaper to travel to Soviet Russia for his first adventure. Nearly 90 years later and as a way to keep its readers updated with quality information, Le Petit Vingtième has decided to renew Tintin's mission, sending the now world-famous reporter back to Russia!
- 5. Prison in the middle of the sea - In the same line as the Monte-Cristo prison and that of Ranko the gorilla, the Irish authorities have just opened a new jail on an island off the coast of Dublin. - (More on page 11)
- 6. Meeting Tibetan monks - One of our special envoys spent two months in a monastery... - (Special report)
- 7. Incredibly hairiness - The three biggest pharmaceutical laboratories in the world are being blamed following the discovery of side-effects provoked by a new aspirin that has recently become available for purchase...- (More on pages 9 & 10)
- 8. Opium, the scourge of China! - Opium trafficking is invading major Chinese cities. The authorities are stretched to their limits... - (More on page 6 )
More information? Find :
-EPISODE 1 : Competition - Official Trailer
-EPISODE 2 See you on 01/07/2016 at 15:00 pm on Grand Place (Brussels) - Tintin has lost Snowy! - Be Tintin or another character - Gifts!