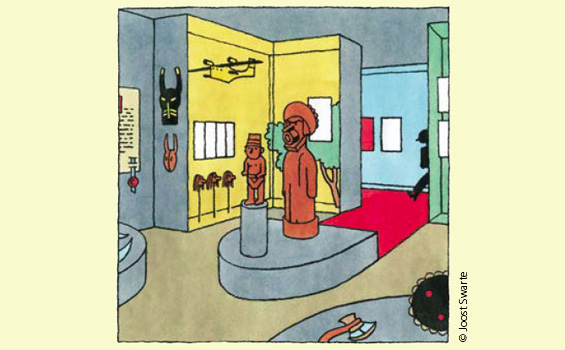 Joost Swarte - Hergé Museum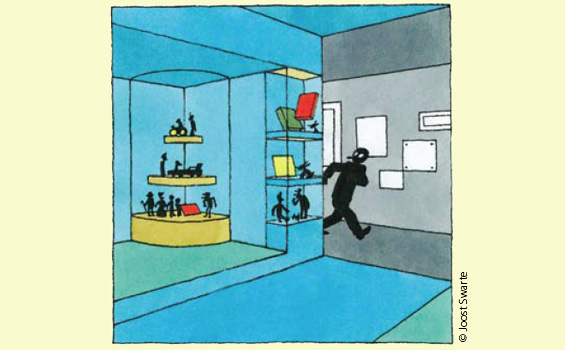 Joost Swarte - Hergé Museum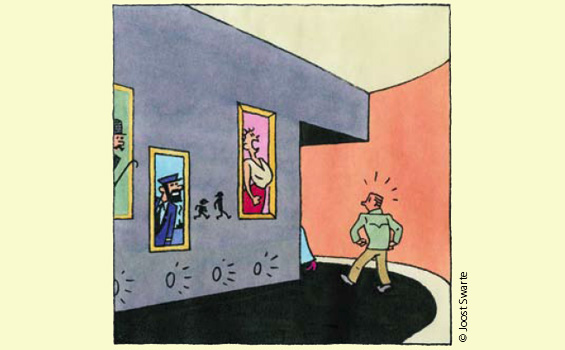 Joost Swarte - Hergé Museum
Dutch artist Joost Swarte is showcasing a substantial selection of more than 200 thought-provoking and inspiring drawings: 40 years of creation!
At the time when Christian de Portzamparc was dream- ing up the design for the Herge Museum, an encounter between the French architect and Joost Swarte would prove to be a pivotal event. A multi-talented artist and designer, Swarte also coined the expression 'clear line', which is used to refer to the style of cartooning epito- mised by Hergé. A comic strip author, Joost Swarte recently illustrated the cover for the May 2010 special issue of The New Yorker, the latest of many contribu- tions he has made to this bastion of American culture. The illustrator is also accomplished at design, creating such diverse works as furniture and stained glass windows. It is not surprising that Fanny Rodwell chose Joost Swarte to design the exhibition layout at the Herge Museum.
Besides the eight permanent galleries, the Herge Museum boasts a dedicated space for temporary exhibitions. Fol- lowing the Making of and Chang – Herge exhibitions, the Museum is proud to host an exhibition by Joost Swarte: it is certainly the perfect location for such an event. Visitors to the Museum already have the opportunity to find out all kinds of interesting and little-known facts about Herge, and to discover unknown dimensions to the artist's prolific career. The Joost Swarte exhibition provides the same level of fascinating insight into the work of the famous Dutch artist and graphic designer, who is also something of an unknown quantity in the French-speak- ing world. While Swarte's talent is fully recognised in the Netherlands, the USA and other countries, it is high time that the French-speaking public witness the astonishing creativity of this artist whose work extends far beyond his career as a comic strip author. The 40 Years of Art and Design exhibition is a wonderful expose of art located squarely within the tradition pioneered by Hergé.
Opened on 22 May 2010, Hergé's birthday, the Joost Swarte exhibition 40 Years of Art and Design is accessible to the public from 23 May 2010 during the Museum's normal opening times: from 10.30 am to 5.30 pm, Tuesday to Sunday. The Hergé Museum is closed on Mondays.