Story
Created in 1939, this book is most impressive and has its sights on Germany. Tintin finds a brief-case on a park bench and this leads him to Prague, then to Syldavia. He will save the Kingdom from being overthrown by a fascist "coup d'état"..
Concerning the background to this story
"In fact, it was a friend who gave me the idea. She talked about an Anschluss (an annexation) which failed unfortunately for Müsstler; we are also confronted by the twins Alembick, who represent the idea of brothers in conflict; and here we meet for the first time Colonel Boris Jorgen, aide-de-camp of the King of Syldavia". (Numa Sadoul, Tintin and I, Ed. Casterman, p153)
Almost perfect
The cover of this book as shown here, is worth a closer look. In fact, it is the 1942 version which has been reworked by Hergé.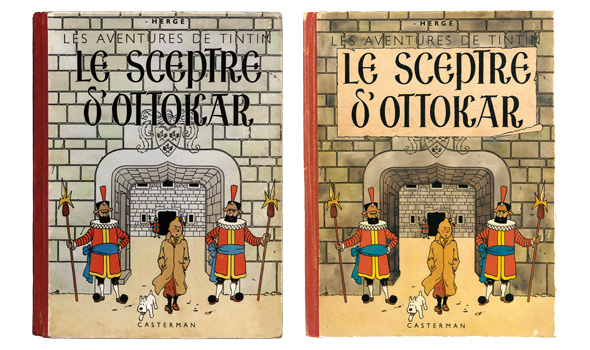 Compare it with this version (see inset) to appreciate the way that the parchment helps to emphasize the lettering of the title.
What's news with the Thompsons twins
Not often seen for obvious reason, their garters are a revelation. Today, this fashion item has totally disappeared.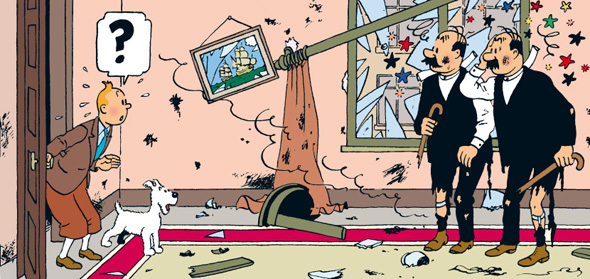 However, who can be 100% sure? We discover visually this fashion accessory when the Thompsons are almost blown-away by the explosion of a bomb.
With Pleasurski!
You won't find Syldavia on the map. It's a pure Hergé invention, with its own history and language. Based on cockney Brussels slang, with a touch of French and Dutch, and rounded-off with some Slav words, we end-up with "politzski" for "police". Simple, to say the least!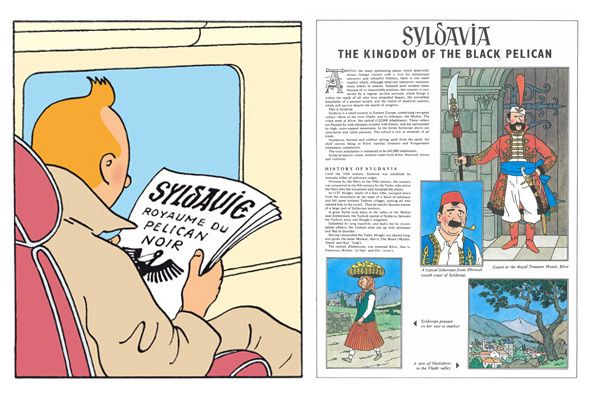 The Diva
Here we meet, for the first time, the most important lady in the Tintin Adventures, namely Signora Bianca Castafiore of La Scala, Milan.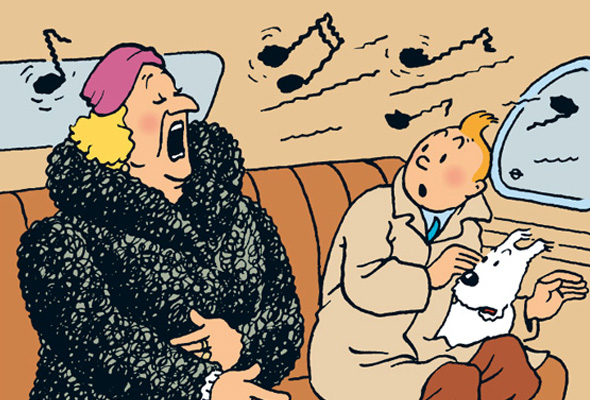 The first contact with Tintin is not really a success. Tintin has never heard a voice like this. Fortunately, the car windows are shatter-proof. Our intrepid reporter escapes when he has the chance. How could we have survived without Bianca Castafiore?
Hergé is everywhere
As Hitchcock often had a cameo role in his films. Hergé did the same in his stories. But it was not systematic. In King Ottokar's Sceptre, Hergé appears twice.

He is present when Tintin is arrested by the Royal Guards and later on during the presentation of the order of the Golden Pelican to Tintin by King Muskar XII.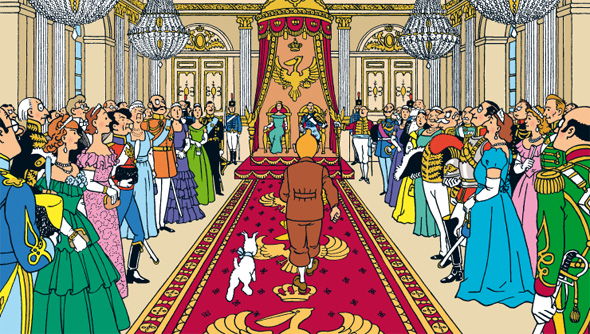 It's been found!
"The Sceptre actually exists and even Hergé was not aware. In 1976, while restoring Saint Vitus Cathedral, within Prague Castle, certain royal possessions of Ottokar II, King of Bohemia (1230-1278) , were discovered.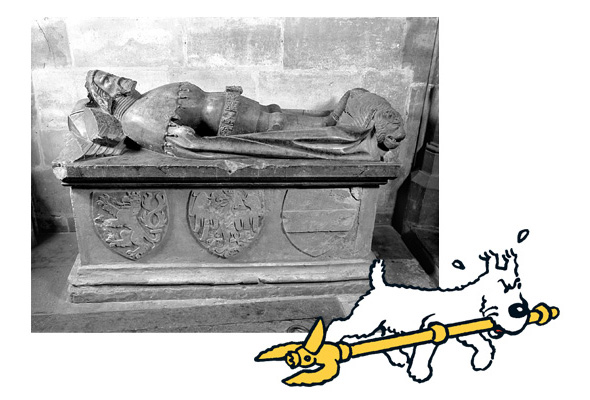 Yes the Sceptre exists and is a real treasure dating back seven centuries..." (Numa Sadoul, Tintin and I, Ed. Casterman, p155) .